Deep gold color; vanilla, almond, oak on the nose; crème brûlée, oak, bread, butter, vanilla on the palate.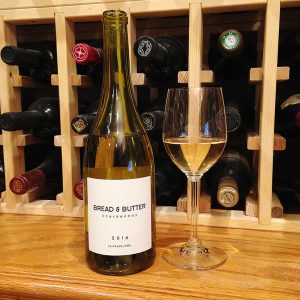 Dry with plenty of fruit sweetness; smooth, full bodied; big oak and malo California chard. The label is appropriate—the Sonoma fruit is held in one-year-old American oak for four months and the Monterey fruit is in new French oak for eight months; 100% malolactic fermentation. The result is loads of bread and butter. I come back to crème brûlée as dominant tasting metaphor.
While not everyone likes this style, plenty of people love it. The brand claims it ranks 28th in its super premium category (super premium in wine speak is wine selling for $20-30), but this wine actually sells at the high end of popular premium ($10-15) and premium ($15-20). The maker also claims this chard is the fastest growing label in the super premium segment. They also make a pinot noir at same price point.
The winery is a small producer located in the Carneros AVA; grapes come from their Carneros vineyard just east of Napa and from the Arroyo Seco AVA vineyard in Monterey County. Their focus is on authentic varietals—chardonnay, pinot noir, riesling—and classic California winemaking.
Bread & Butter Chardonnay 2016 is pure expression of big oak, butter, vanilla, rich, full-bodied California chardonnay. You likely will love it or hate it, but there are throngs out there who adore this style at this price. Pair with anything buttery, from baked chicken (avoid acidic or sweet sauces), pastas with white cream sauces, movie theatre popcorn, baked buttered squash, light seafood (snapper cooked in butter is classic), shellfish, lobster with butter, shrimp with rich cream sauce, soft cheese (brie, camembert). $12-15
No photos of Bread & Butter vineyards or winery found online, so some generic photos of Carneros and Monterey County vineyards.