Medium ruby color; cherry, raspberry, cedar, spice on the nose; cherry, raspberry, bacon, butter on the palate.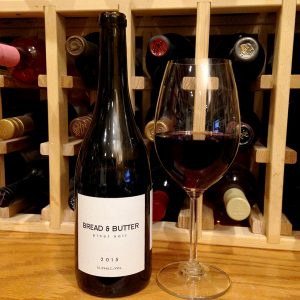 Dry; smooth thanks to 100% malolactic fermentation, but struggles with acidity (3.8 pH). Modest fruit notes, struggles to find balance. Comes across as generic California large-production pinot noir, which clearly will find an audience at its price point. Take away: you may enjoy this wine, but this is not what quality pinot noir delivers. But, you pay two or three or many more multiples to sip on such; 13.5% ABV.
This is Napa fruit, but—certainly given the price point—it is not Napa royalty blocks. I admire the fact Bread & Butter did not dial up the alcohol. Light body, muted tannins, somewhat engineered oak. The engineering of the wine is what I, and other reviewers, have some trouble with. Well, at this price point you expect that. It is simple, easily drinkable red wine. It is not a complex, nuanced expression of pinot noir, but I don't think the makers intended to make such a wine. They wanted a somewhat bland, inoffensive wine that people who are not really that into wine could enjoy. They achieved their goal, a bravo to them. Newbie wine drinkers, enjoy this now, then move up to the next level.
Bread & Butter is not an insignificant players in the "super premium" category—a misunderstood niche, since it means wines that sell between $10-15. The price categories for wine are so 20th century as to being meaningless in today's wine world. Back to reality, quality pinot noirs start at more than $20, and past $30 is where the magic begins to happen.
But, whatever. Maybe because of the warm-fuzzy name, the price, or the—gasp—the product, this has become one of the hotter brands in its tranche/category, so they are doing something right even if I am not enamored by low-end pinot noir. The wine is now owned by WX Brands, a company starting to run with the big dogs—Gallo, Constellation, Wine Group. WX started in 1999 as the Wine Exchange. Bread & Butter started in 2010 as an Alcohol by Volume brand—a name conceived, legend claims, when the principals consumed a case of wine and a bottle of tequila. Draw your own conclusions.
Bread & Butter Pinot Noir 2015 is an acceptable mass market pinot noir. If you enjoy Mark West, give this a try. Pair with salmon; lamb chops; quail; avocado and papaya salad; basil pesto; barbecue chicken; pizza; works as the second or third bottle on a big party night. $14-15
Link to Bread and Butter Wines website
No photos of Bread & Butter vineyards or winery found online, which usually means this is negotiant winery that owns no vineyards and contracts to winery to make the product.