Medium gold color; flowers, roses, jasmine, lychee, honey on the nose; honey, spice, ginger, ruby red grapefruit, lychee, peach, cantaloupe on the palate.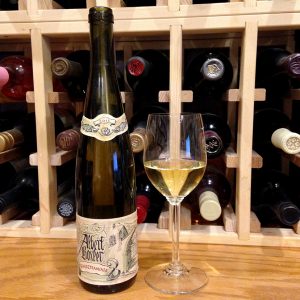 Off dry with a definite sweetness element that is balanced by acidity. Because of gewurztraminer's floridly floral aromas, you often are tricked into thinking it is sweeter than it is, which likely is the case here. Full body; long, lush finish where the honey just parks in your mouth for what seems like a minute; 12% ABV (which is somewhat low in the gewurztraminer world). Well made.
Some gewurztraminer is low quality, grocery store, sweet wine. Avoid that. This is not that. Gewurztraminer also can be hard to find; there are only around 20,000 acres of the grape planted on the planet. More than one-third are found in Alsace, where this wine came from. Better gewurztraminers will have sweetness, but not cloying sweetness. That is exactly the case with Albert Boxler Gewurztraminer. This is Boxler's introductory-level gewurztraminer; he also makes more expensive "Grand Cru" and "Haut-Rhin" efforts that have even more elegance than this, but that is not to sell this wine short.
Although gewurztraminer is one of the 18 classic noble grapes, it typically is undervalued and therefore you can get really good gewurztraminer—like this bottle—for a lot less money than you would pay for a bottle of this quality made with more popular grapes.
Albert Boxler has a fascinating back story. Today, the winery is run by Jean Boxler, who is many generations removed from his ancestor of the same name who moved to Alsace from Switzerland in 1673. World War II brought Jean's father, Albert, back to Niedermorschwihr from Montana, where Albert enjoyed the freedom and beauty of the Big Sky Country. After the war, Albert returned to the family domaine to help harvest the 1946 crop, then became the first generation to bottle the family's production and put a label on it.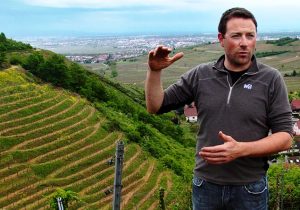 Albert's son, Jean-Marc, continued the family tradition for several decades, then passed on management to his son, Jean, in 1996. According to the wine's technical sheet: "The family's holdings are centered around the ancient village of Niedermorschwihr in the Haut-Rhin, dominated by the imposing granite hillside grand cru, Sommerberg, which gives racy, intensely structured, very long-lived wines."
The wine is imported to the U.S. by Kermit Lynch, which almost always is all you need to know about a wine. Lynch has been a giant in the wine import business in the U.S. for decades. I do not believe I have ever tasted a Lynch wine that I did not enjoy. This is no exception.
Albert Boxler Gewurztraminer, Alsace 2015 is delicious and exotic. If you enjoy moscato, you will love this. Gewurztraminer is the adult version of moscato. Gewurztraminer can be enjoyed as a desert wine all by itself, and this effort definitely qualifies for that mission. You also can add gewurztraminer to your peach cobbler recipe for extra flavor and depth. But it also is a versatile food wine, especially with spicy cuisine.
Food pairings include chicken, duck (think duck à l'orange), pork, bacon, shrimp, lobster, crab. It really shines with bold, exotic, spicy fare—Middle Eastern, Moroccan, and Asian cuisine—where gewurztraminer's sweet aplomb will bring your world back into balance. Gewurztraminer's aromas and ginger notes pair very well with fare that includes ginger. You can pair gewurztraminer with artichokes, which is quite a feat in the wine-food pairing world. Pair with non-stinky, delicately flavored cheese—munster, cheddar, gouda, parmesan. $32-37
Link to Lynch Albert Boxler page