Deep ruby color; clove, black fruits, cinnamon on the nose; blackberry, black currant, black cherry, bell pepper on the palate.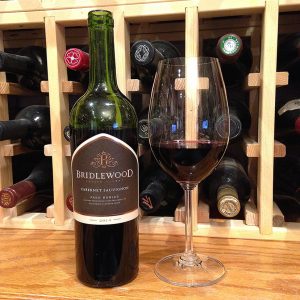 Extra dry (25 g/L RS); fruit-forward, plush in the mouth, significant tannin on pop-and-pour first sips, but some time in glass and especially decanting smooths this out nicely and brings black plum, strawberry, baking spice and dollop of caramel forward into the flavor profile. Rich, ripe, almost jammy fruits reflect the unusually warm season and smaller crop size—2014 was drought year that forced 50% reduced water allocations to farmlands. They also reflect Paso Robles's emerging reputation as a major AVA; think Napa and Sonoma efforts at one-half to one-third the prestige pour's pricing.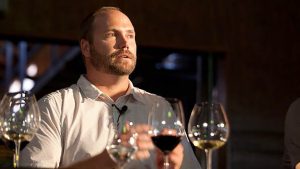 Bridlewood embraces its warm Central Coast terroir—Paso Robles has the warmest climate in the Central Coast AVA, but it also has the greatest temperature drop at night. Winemakers blended 80% cabernet sauvignon, 6% petite sirah, 6% malbec, 5% merlot, 3% syrah to achieve this effort. It was impossible to determine the winemakers at this Gallo-owned wineries, various names pop up in online research, but the website doesn't reveal this secret. Best guess is Mark Williams—at least at time this was made—but David Hopkins also is identified at another site; he likely preceded Williams. And Williams now is the wine maker at William Hill, although Gallo does use winemakers at multiple wineries at the same time. I may have incorrectly identified a female winemaker in earlier review of different Bridlewood wine.
Bridlewood's Sunnybrook Vineyard produced the dominant cab grapes; its southern exposure and large diurnal temperature change evoke complex tannin and the various subtle flavors presented here. The four blending grapes from other parcels add their own dashes of personality to this tasty effort. All the lots spent up to eight months in French oak, but Bridlewood again shows they know how to do oak right, and wood does not dominate this effort.
The estate, a Spanish mission-style building complete with a mission-style bell tower, is a former racehorse rehabilitation center in Santa Ynez. You can take horse-drawn carriage rides through the manicured property, which includes a full-size horse race track, a pond where horses used to swim as part of their rehab, hillside vineyards, and horse stables. It was established in 1999 and purchased by Gallo in 2004.
Bridlewood Estate Cabernet Sauvignon Paso Robles 2014 is a tasty, fruit-forward, nicely nuanced, crowd-pleasing effort that after decanting grows in admirable complexity and depth, especially considering the price. Pair with grilled or braised meats, prime rib, caramelized onion burgers, grilled steak salad, grilled sausage with small potatoes, Dorper lamb chops, baked eggplant with mushroom and tomato sauce. $13-18