Deep ruby-garnet color; dark cherry, red fruit, pepper on the nose; raspberry, red currant, cherry, sliver of oak on the palate.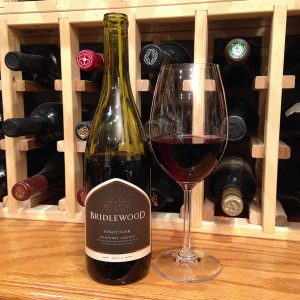 Nicely done pinot noir at this price point. Acceptable acidity (3.8 pH), easy-going tannin, oak that does not threaten your palate, plenty of tasty Monterey County fruit.
Bridlewood embraces its Central Coast terroir. Winemaker Kamee Knudson crafts juice from various sources in individual tanks and barrels in order to blend to a Bridlewood standard (Bridlewood is a Gallo brand). The wine spends six months in French oak and then is thoughtfully withdrawn so you do not experience the horror of the oak monster that unfortunately appears in too many Central Coast pinot noirs. Well played, Kamee Knudson.
Bridlewood Monterey County Pinot Noir 2014 is nice value-for-price pour. It is not sleek, complex, etherial effort that pinot noir can achieve, but it is a darn delicious, easy drinking, enjoy-the-fruit bottle you can pour on any weekday without regret. $15