Deep purple color; blackberry, strawberry on the nose; rich blackberry, boysenberry, spice, strawberry on the palate.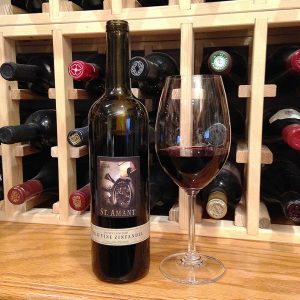 Opulently rich in the mouth, reflective of the ancient vines—the 8.3-acre Marian's Vineyard was planted in 1901—and the heights that can be achieved by well-done California zinfandel when winemakers get out of the way of the fruit to make a fruit-forward wine that reflects the vineyard rather than the winemaker's ego.
Oak is subtle, appropriate background note; tannins are reserved (expected in zin); harmonious acidity makes cameo appearance in mid-palate and on nicely long finish. Ripe fruits deliver ripe flavors and 15.5% alcohol, but thanks to smoothness and quality of the making, this does not even approach coming on as a hot wine. Nice trick, well done.
The winery traces its roots to 1970 when Tim Spencer purchased 43 acres in the Jackson Valley of Amador County. Raised on a dairy farm and a life-long farmer, Tim did not have wine experience but experts told him his acres would grow good grapes, and so he planted. Eschewing the fads of cab and chard era, Spencer went with Portuguese varieties—touriga, tinta cao, alverelhao, souzao, bastardo. The winery focused on port in the early days.
Life evolved. There were disputes with a winery landlord that forced a move to another winery. In 1996, the family landed in Lodi at an old industrial winery that was not pretty but functional. According to the website, one visitor to the winery remarked, "Oh! This doesn't look like a winery." Tim Spencer replied, "There are tanks, barrels, picking bins, and cases of wine. What is a winery supposed to look like?" The visitor replied, "You know, picnic tables, t-shirts, gift items." Spencer responded, "Lady! I think you will be much happier visiting somewhere else, and I know I will."
Tim Spencer died of cancer in 2006 and his son, Stuart Spencer, took over the winemaking part of the family business. He maintains his father's attention to distinctive, original, hand-crafted wines that reflect the terroir. Stuart's mother—Tim's wife—Barbara St. Amant Spencer is the owner today. The winery is named for her maiden name because the family correctly imagined "St. Amant" was a better brand monicker than "Spencer Wine." They may be down-to-earth farmers and wine makers, but that has never meant a lack of marketing savvy.
Tim Spencer is the stuff of California wine legend. He once drove a redwood grape stake through his arm, lost his wedding ring to a black widow spider, chopped off the tip of his finger, and was bitten by a rattlesnake—all working in the vineyard. In spire of all this, he never missed a day of work until his cancer. When the cancer struck, he often dismissed the annoying salesman greeting of "How are you today!" with a tart retort of "Shitty, I've got cancer." And then enjoyed the subsequent silence. He pushed on to make quality wine. As with most winemakers, it does not just happen. If it was easy, everyone could do it. Everyone can't, the Spencers can.
St. Amant Marian's Vineyard Old Vine Zinfandel 2015 is the real deal in old vine zin from California. Delicious, true to the varietal. Will pair with wide variety of food, from rich red meats to pasta-tomato dishes and tuna and seafood stews. Decanting smooths this out even more, but is not required. $25