Pale ruby color; red and black fruit, dark cherry, spice, tea on the nose; cherry, raspberry, black cherry, clove, plum sauce, blueberry, smoke on the palate.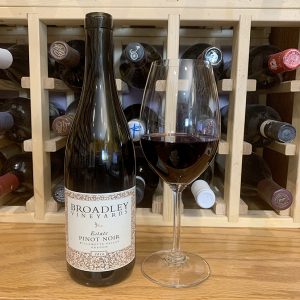 Dry; reserved tannins, balancing acidity. More assertive fruit flavors than its sister, non-estate effort Link to review. Light-medium body. Velvety smoothness and roundness intriguingly interplays with assertive dark fruit elements; 13.8% ABV
As usual, Broadley consistently over-delivers for the price. If you can't get this vintage, get what you can. I've reviewed their entry-level offering (see link above) and their more premium efforts, Jessica and Shea—you can see those reviews on my website, too, using the site's search function. Broadley is a top Willamette maker.
Well done oak. The wine spent a year in used French wood, which means the oak is background melody rather than building fugue. The reserved oak and alcohol sets this up as a nice food wine. Evolves nicely in the glass, losing some of the edge of black fruits that can be considered features, not flaws, of the pop-and-pour. But after experiencing the sweeter, softer version after some air in glass, I deployed my Menu Wine Breather—a double decanting, aeration system. The wine was softer and somewhat more approachable, but the difference was subtle. Readers know my almost fanatical advocacy for decanting red wine.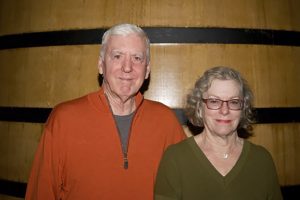 Craig and Claudia Broadley founded Broadley Vineyards in Monroe, OR in 1981 after traveling to Oregon and falling in love with the region. Their first vintage bottled in 1986. They specialize in hand-crafted wine and relatively small production—around 5,000 cases a year. Today, their son, Morgan and his wife Jessica, manage the operation with the help of their two children, Olivia and Savanna—although mom and dad are quick to assert their daughters will make their own decisions about careers when the time comes.
Their website notes: "Our estate vineyard is farmed using sustainable farming practices. We use organic material to promote healthy growth in our vines. Sustainability is a part of our daily life and we believe it is essential for our future."
The winery is located in what once was a car dealership. Broadley focuses only on Oregon pinot noir. The Broadleys believe open-top fermentation vessels. In this case, they used open-top aluminum. Open-top wood is reserved for their more expensive offerings. They use whole clusters to add more intensity, structure, and character to the wine.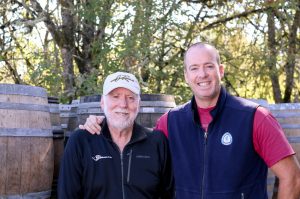 Broadley trains their vines using the lyre trellis system. The system splits the canopy into two walls of grapes to give more sun exposure and air flow, leading to more consistent ripening of grapes. It also puts grapes into some water-stress (enough water, but not more), increasing phenols (major flavor component) and enhancing tannins. All good and very elegant, but lyre is an expensive system to put in place and maintain. Broadley's commitment reflects in the quality of their wines.
Broadley Vineyards Estate Pinot Noir Willamette Valley 2016 is another winner from one of Willamette Valley's signature wineries. Excellent fruit. Well built for food. Another example why Willamette Valley ranks among the premier pinot noir producing regions on Earth. Pair with turkey and other poultry; salmon and other richer fish and seafood; lighter beef; wild game—venison; veal; lamb. Wine will have some difficulty with heavily marbled, rich red meat because of its polite tannins. $28-35