Pale straw color; apple, peach, lime on the nose; tropical fruit, guava, honeydew melon, peach, pineapple on the palate.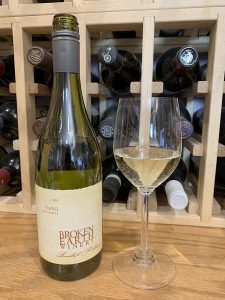 Off-dry with hint of honey, but comes very close to dry. Light-medium body. Excellent mouthfeel with hints of oiliness/beeswaxiness. Smooth. Excellent acidity (3.34 pH). The wine spent four and a half months in oak barrels designed for white wine, so there is subtle suggestion of oak. No tannins. 13.1% ABV
Fiano is a quality white wine grape from southern Italy. It is particularly associated with Campania, a region in southern Italy; Naples is the regional capital. Fiano also is becoming popular in Australia. Broken Earth started their fiano grape vineyard in Paso Robles, grafting on dormant vines. This is made from their first crop, which produced 2.4 tons in 2019. The grape is notable for its relatively low yields, but also for its richness and quality.
Broken Earth winery began when Herman Schwartz purchased the property in 1973 and planted 520 acres in grapevines. He embraced sustainable farming techniques, which continue today. There are energy-saving tank temperature control systems. The winery is powered by a solar array. Solar provides the hot water at the winery. More than 360 acres of trees have been planted for biodiversity.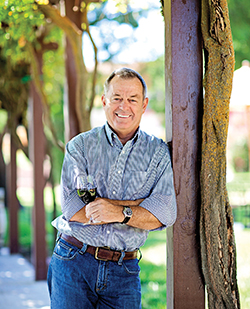 Chris Cameron is the director of winemaking. He is a veteran of more than 30 vintages, including the past four in Paso Robles. Prior to that, he worked in Australia, Italy, France, and Turkey. He is an advocate of minimalist intervention. The wine is made in the vineyard, and Cameron believes his job is to allow the vineyard to express itself in the wine. Bravo. A video on the website narrated by winemaker Chris Cameron is worth watching.
Broken Earth Winery Limited Release Fiano, Paso Robles 2019 is a delicious, sophisticated white wine. Excellent fruit, especially for a first harvest. With a modest first harvest, you will have to struggle to find a bottle of this, but look for succeeding vintages as this looks to be another Broken Earth/Paso Robles winner. Pair with seafood—baked fish, shellfish, octopus; vegetarian dishes; pasta dishes where the richness and acidity plays well with both cream-based sauces and tomato-based efforts; savory-glazed light means such as orange rosemary roasted chicken. $27