Medium salmon-copper color; rose petals, redcurrant, strawberry on delicate nose; cherry, strawberry, raspberry, orange peel, chalky minerality on the palate.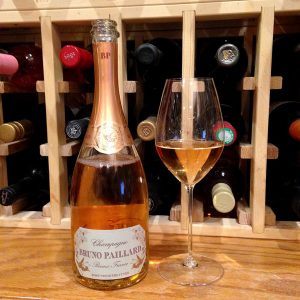 Extra brut; medium body; great acidity-tannin balance with superb minerality; fresh, intense, balanced. Stunningly vigorous bubbles. Delicate in the mouth, powerful on the palate with cutting acidity and tannic nip on the mid-palate and finish; the appearance of a bit of orange peel on the finish is an endearing surprise. Extra brut can be half the residual sugar of brut, so if you can taste even a hint of sweetness in this superb effort you have a more discerning palate than I do.
This is predominantly pinot noir; the website explains: "First pressing of mainly Pinot Noir with some Chardonnay, the amount of which remains a secret." It, as do most quality Champagnes, includes reserve wines, meaning it also is a blend of previous 25 vintages going back to 1985. This blending of vintages—the 1985 has been held in reserve for 30 years—is what makes Champagne consistent, expensive, and extraordinary.
This bottle was disgorged in October 2016—because of the vintage blending, disgorgment date in Champagne means when the wine was bottled. Disgorgment is when the bottle is topped off with a final shot of sparkling (to replace the dosage) and then is corked, thus reaching its penultimate phase of making. After disgorgment, the bottle is cellared for a minimum of five months of "post disgorgment recovery." Bruno Paillard was the first maker in Champagne to put the disgorgment date on every bottle, not just their highest end offerings.
According to the website, Bruno Paillard's mission, from the beginning, is to create Champagne in an extremely pure style, thus the extra brut of this effort. The website notes:
"The BRUNO PAILLARD style is a marriage of elegance and complexity which is manifested as a light and smooth effervescence, a remarkable purity, a true freshness and a silky texture. The effervescence has to be delicate. The bubbles are very tiny, almost microscopic, yet they are what release the wine's aromas and give it a smooth and creamy texture on the palate.
"The colour has to be completely natural. It is bright: green gold for Blanc de Blancs, golden for Première Cuvée and copper for Rosé. The colour of the vintages becomes deeper, and almost amber after several decades.
"The aromas have to be extremely pure: nuances of citrus fruits and almonds from Chardonnay; red fruits from Pinot Noir; and exotic fruits from Pinot Meunier. By using only the first pressing of the grapes, we ensure that the purest aromas are extracted."

Bruno Paillard was born in 1953. He followed in his family's footsteps as a wine broker early in his career. In 1981, he sold his collector's item Jaguar to start his own Champagne company. The website notes: "This might have seemed like a moment of madness in a region that had not seen a new house in nearly a century, and which was characterised by a conservative attitude. However, this young champagne pioneer was determined to achieve his dream." His daughter, Alice Paillard, recently joined the operation. They only sell their Champagne through restaurants and fine wine stores.
Bruno Paillard Rosé Première Cuvée Champagne NV is a stunning achievement in Champagne purity; no gimmicks, just pure fruit with cutting acidity, balanced by tannin and discrete but vivid fruit. With its acidity and elegance, this will shine as an aperitif; with its acidity and dryness, it will pair very nicely with lobster, Italian charcuterie, sushi, poultry, red fruit salad. The Bruno Paillard website has a detailed recipe for a lobster casserole with chestnuts and truffles; if you are an adventurous and skilled cook/chef/gourmand, be sure to check it out. $61-80
Champagne Bruno Paillard website