Pale amber-copper color; red fruits, redcurrant, strawberry on the nose; cherry, raspberry, hint of lemon and pink grapefruit, some chalky minerality on the palate.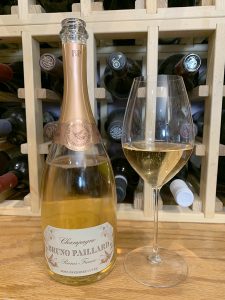 Extra brut, almost no sugar (less than 6 g/L); brut is slightly sweeter (less than 12 g/L). Lemon hint gives this depth with surprise tartness. The making is intriguing and provides complexity. White wine from pinot noir is made with a quick pressing and fast separation, producing a pale white. Red wine from pinot noir receives longer time on the skins. A proprietary secret amount of chardonnay is added to the blend. All juice is first pressing only. Reserve wines used to make this non-vintage effort date back to 1985.
The wine aged three years sur lie for depth and complexity. Disgorged in July 2018 and held in bottle for minimum of five months before release. Bruno Paillard was the first maker in Champagne to put the disgorgment date on every bottle, not just their highest end offerings.
Disgorgment is when the plug of material that gathered in the neck of the bottle is removed and the bottle is topped off with a final shot of sparkling to refill. Paillard's website notes: "There are numerous side effects on the wine as a result of disgorgement. At the moment of disgorgement, the wine undergoes a sort of trauma, as would a patient who undergoes a medical operation. As a matter of fact, in the language of cellar workers, 'to disgorge' is expressed by using the word 'to operate'. As a consequence, the first requirement of the wine after disgorgement is convalescence.
"As with a surgical operation, this convalescence should be longer for an older subject than for a younger one. It is this experience that leads us, at BRUNO PAILLARD, to give a minimum of five months of rest after disgorgement to the Première Cuvée and the Rosé Première Cuvée, which are relatively youthful wines."

Bruno Paillard was born in 1953. He followed in his family's footsteps as a wine broker early in his career. In 1981, he sold his collector's item Jaguar to start his own Champagne company. The website notes: "This might have seemed like a moment of madness in a region that had not seen a new house in nearly a century, and which was characterised by a conservative attitude. However, this young champagne pioneer was determined to achieve his dream."
Bruno Paillard's stated mission, from the beginning, was to create Champagne in an extremely pure style, thus the extra brut of this effort. The website notes: "The BRUNO PAILLARD style is a marriage of elegance and complexity which is manifested as a light and smooth effervescence, a remarkable purity, a true freshness and a silky texture. The effervescence has to be delicate. The bubbles are very tiny, almost microscopic, yet they are what release the wine's aromas and give it a smooth and creamy texture on the palate.
"The colour has to be completely natural. It is bright: green gold for Blanc de Blancs, golden for Première Cuvée and copper for Rosé…. The aromas have to be extremely pure: nuances of citrus fruits and almonds from Chardonnay; red fruits from Pinot Noir; and exotic fruits from Pinot Meunier. By using only the first pressing of the grapes, we ensure that the purest aromas are extracted."
Bruno's youngest daughter, Alice Paillard, joined the operation in 2007 and now serves as the CEO. 
Bruno Paillard Rosé Première Cuvée NV is splendid pinot noir-driven sparkler with just hint of chardonnay. Pure, bright, excellent acidity, refreshing tang. Rich, verges on decadent. Medium body; 12% ABV. Vigorous, tiny-bubble mousse. There may be some who are put off by the tart dryness and acidity, but many Champagne will celebrate its elegance and clarity. 
This stars as an apéritif. With its extra brut, cutting acidity, and palate-cleansing tartness, it also works with wide range of food. Bruno Paillard recommends lobster casserole with chestnuts and truffles; there is a detailed recipe on their website. Also pair with fish, shellfish, sushi, cheeses—try extra creme brie. But sipping it solo before an elegant meal is its métier. $58-65
Champagne Bruno Paillard website