Deep copper color; cherry, strawberry, red fruits, rose petals on the nose; strawberry, cherry, pomegranate, blood orange, almond, hint of saline/minerality on the palate.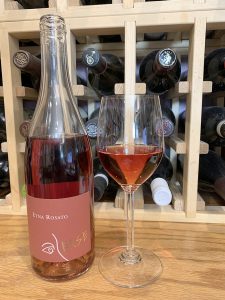 Dry; brisk acidity; tart, flirts with bitter, but then turns to refreshing tang on the mid-palate and finish. Blend of nerello mascalese (almost certainly the very largest percentage) and nerello cappuccio. Nerello mascalese and nerello cappuccio are red wine grapes principally grown in Sicily; mascalese is considered superior to cappuccio; both are thought to be crosses between sangiovese and an unknown grape variety.
Clean and nicely fresh—impressive for a two-year-old-plus rosé (rosato). I can't get to all my wines to taste immediately, so it is pleasing to find how many wines still do fine after their alleged "best by" dates. This is solidly is one of them; 13% ABV.
The winery is the trailblazing dream of Silvia Maestrelli. The website notes: "Pioneer and women—among the producers who have given new impetus to enology on Etna, Silvia Maestrelli—comes from a Florentine entrepreneurial family, she emigrated to Milan for love—arrived on Etna in 2006, on the trail of falling in love with this land rich in contrasts. A real coup de foudre for a difficult land, strongly masculine, but of enormous charm and equally great enological potential. Thus began a new phase for her life and a research, both personal and professional, which will give life in 2007—after long and detailed negotiations with the ancient and numerous landowners—at the birth of Tenuta di Fessina. A project in which the sensitivity of a 'feminine' oenological vision, combined with the unquestioned technical skills of consultants and collaborators, has allowed us to create in just 10 years from the foundationone of the most successful and recognizable cellars in the Etna area, perfect ambassador in the world of new Sicilian viticulture."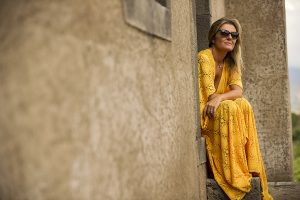 This comes from the Rovittello production area. The tech sheet notes: "Fessina has a particular position: the semicircular ridge that surrounds the vineyard creates a micro-climate that allows the grapes to ripen slowly and completely, giving the wine unique elegance and complexity that are refined in the bottle giving austerity and longevity."
Tenuta di Fessina Erse Etna Rosato 2018 works nicely as aperitif or just fun sipping with friends and erudite conversation. It delivers finesse—femininity—rather than power. Lunch or dinner, pairs with seafood; mussels; pasta with sardine and grilled fish; pecorino, where the saline notes will play well with the sheep's milk cheese; garden salads that include fruit. With its dramatically lovely color, this will work with any meal where you want romance to be part of the menu. $23-25