Pale straw color; grapefruit, apple, melon on the nose; yellow apple, grapefruit, citrus, minerals on the palate.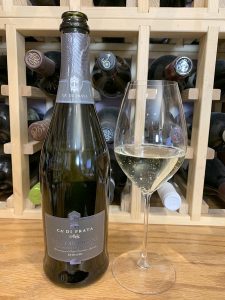 Extra dry, which is a little sweeter than brut in sparkling wine world, but this is not sweet wine. Light. Fruity. Creamy in the mouth, Very easy drinker. No tannins; laid-back acidity. Fine, persistent bubbles. 11% ABV.
The wine is made by the Latentia winery in Italy, but distribution is through Mack & Schühle in the U.S. Mack & Schühle is located in Miami, Florida and in Stuttgart, Germany. Founded in 1939, they are the leading wine distributor in German-speaking markets.
Mack & Schühle both produces their own wines and distribute wines, in some cases—I am not sure about this one—they have direct shareholding in the winery. As they note, Mack & Schühle does wine from the grape vine to the store shelf. Latentia is part of the Mack & Schühle Group, but is not listed as a joint venture. Latentia Winery SpA produces and owns wineries from Puglia, Veneto, and Friuli Giulla regions in Italy.
Ca' di Prata Valdobbiadene Prosecco Superiore Extra Dry DOCG is creamy crowd pleaser. Light and fruit-forward. Works well as an aperitif; pair with shellfish and lighter fish dishes; vegetarian fare; appetizers and snacks; charcuterie plate; cured meats. $13-15