Medium copper-light rose color; strawberry, spring flowers on the nose; strawberry, cherry, almond on the palate.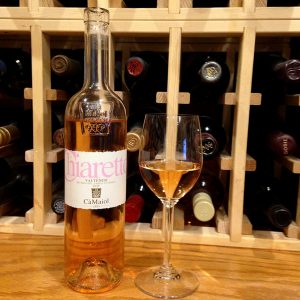 Dry; light, delicate, fresh, easy going easy drinker; practically no tannin; no oak. Blend of groppello, barbera, sangiovese, marzemino; 12% ABV. Chiaretto bottlings are referred to as "rosé d'une nuit"—a "rosé of one night." The four grapes have skin contact for a single night to achieve the color. The grapes are grown near Lake Garda, Italy's largest lake, located in the northern part of Italy, a 30-minute drive from Verona.
Cà Maiol (formerly known as Provenza) is a winery in the Benaco Bresciano IGP region in Lombardia (Lombardy) in Italy. The vineyards stretch from the southern shore of Lake Garda to the Morainic Hills. The Valtènesi zone provides long hot summers, short mild winters, and delicate breezes off the lake that caress the vineyards. Walter Contato founded the winery in 1967.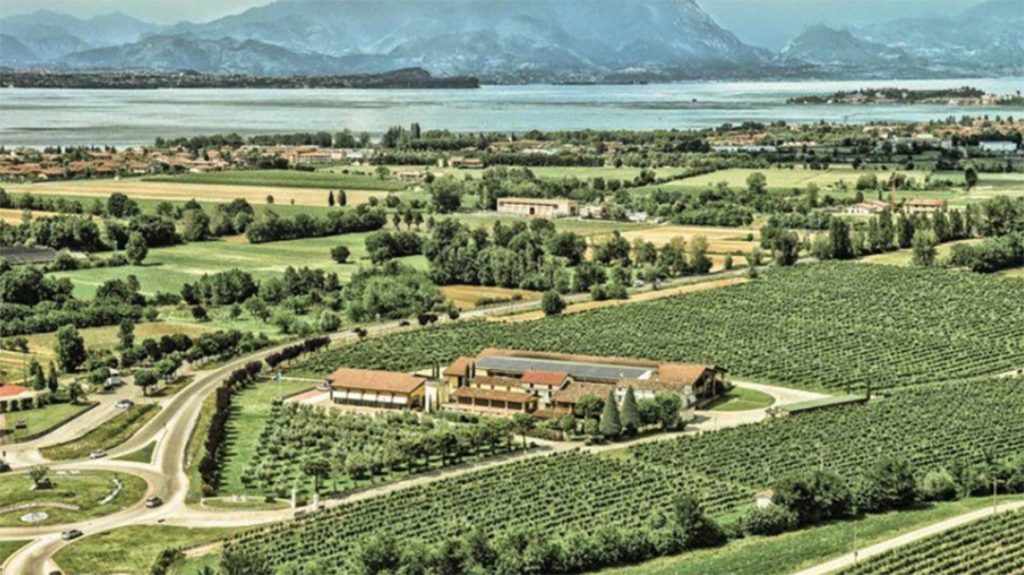 A visionary, Contato gathered other local vinegrowers to create the Producers' Consortium for Lugana DOC to protect and promote the white wines of the Lake Garda region. In 1996, sons Patrizia and Fabio began running the operation. The website notes: "The new generation inherited his passion for the region, his love for Lugana wine, and his desire to keep on developing and improving the company's outstanding products. As a result, the estate's 130 hectares of land are today the fertile custodians of pioneering winemaking and of a wine with a marked local identity. Thanks to its unique texture and contemporary style, it has succeeded in winning over palates worldwide."
The Santa Margherita Wine Group imports Cà Maiol into the US. According to their website: "Founded in 1935, Santa Margherita, the flagship brand, has been contributing to the international success of premium quality Italian wine for more than 80 years. This success has deep roots and strong bonds, backed by an approach mapped out by Santa Margherita's founder, Count Gaetano Marzotto. In 2014, the Marzotto family realized their own American dream of developing and expanding their wine portfolio with the establishment of Santa Margherita USA, their wholly-owned United States import company."
The website further explains: "We like to think of ourselves as not just a wine group, but also a 'wine mosaic' whose tiles are situated in Italy's finest production zones. After expanding our presence in the Veneto with Torresella in the early 1980's, we welcomed Alto Adige-based Kettmeir, now approaching its centenary year. Tuscany followed in 1993 with Lamole di Lamole in Chianti Classico. In 2000, we founded Sassoregale in the Maremma region of Tuscany, known for expressive, full-bodied bottlings. The same year, we acquired a vineyard in Sicily and saw the region's winemaking potential, and established Feudo Zirtari in the province of Agrigento. The last tile in our mosaic brings us back to the Veneto, in the heart of the Conegliano-Valdobbiadene DOCG. Since 2010, thirty acres of hillside vineyards reinforce Santa Margherita's outpost in the historical homeland of Prosecco, where, as far back as 1952, we played an important role in the region's inception."
Cà Maiol Valtènesi Riviera del Garda Classico Chiaretto Rosé 2017 is light, delicate, delicious, extraordinarily versatile, fun and fresh easy drinker. A fantastic buy. Pair with freshwater fish; poultry without sauces; mushroom-based dishes; pizza; spicy Asian food; in fact, with its smooth mouthfeel and low alcohol, it will go with almost anything. Also works as an aperitif or sipped solo on patio, desk, or poolside. $10-12
Ca Maiol–very nice landing page video
Santa Margherita Wine Group USA website