Deep purple color; blueberry, blackberry, dark fruits, earth on very vivid nose; blackberry, black cherry, blueberry, licorice, grilled meat, menthol, dark chocolate, leather, earth on the palate.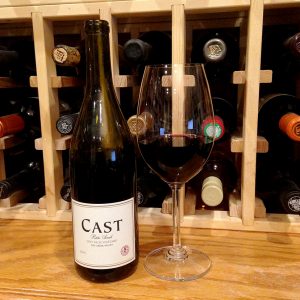 Dry; firm, chewy, rustic, drying tannins—this clearly benefits from decanting. Firm, aggressive dark fruits. Significant acidity. Toasted oak contributes to the chocolate element. This is not a wine for beginners. Big, full body, emphatic dark fruit flavors persist on a long finish that includes chewy dryness. This is not a delicious wine, it is a formidable wine that demands to be paired with the richest of red meats or meaty pasta dishes to create balance—in that context it can be glorious.
Cast Wines is a boutique winery located in the bucolic Dry Creek Valley, just north of Healdsburg in Sonoma. The website reports: "Tucked into the forest on a tranquil bench above our Grey Palm vineyard in beautiful Dry Creek Valley, Cast Wines grows and crafts wines in limited quantities highlighting the best grape sources of Sonoma County. Our property's spellbinding views and our laid back, seated tasting experience combine to offer an authentic wine country visit recalling a simpler time. The first time we walked this stunning property, we observed formations of migrating birds, felt the cool afternoon breeze on our shoulders, heard the distant frogs begin to sing and then, just as the sun set behind Bradford Mountain, a lone coyote began to howl in the distance, as if to say…" what are you waiting for?" A spell was Cast upon us at that very moment (as well as a name) and our course was set."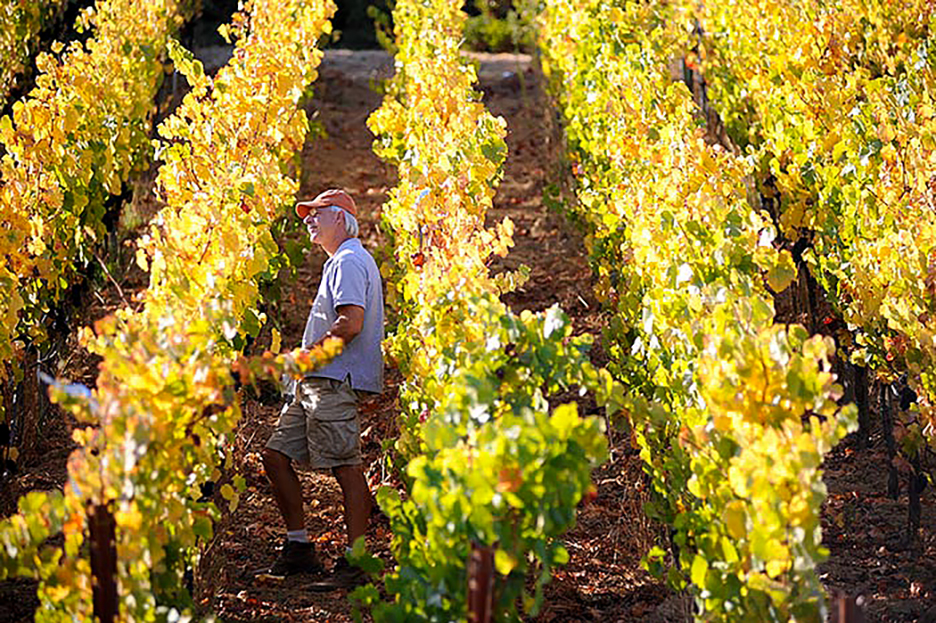 Winemaker Mike Gulyash has spent the majority of his career making wine in Sonoma County. The website notes: "His philosophy centers on enhancing the fruit, not overpowering it. Every time you enjoy a bottle of Cast wine, his goal is to transport you to our vineyards!"
Gulyash earned a degree in chemistry with an emphasis on organic chemistry from Cal State-Sonoma. He began his career at Jordan Estate, where he enjoyed the influence of legendary California winemakers André Tchelistcheff and Rob Davis. In ten years he became the cellar master at Jordan. He next became the winemaker at B.R. Cohn Winery where he collaborated with another legendary California winemaker, Merry Edwards. Later still, he produced award-winning wines at Zichichi Family Winery.
Cast Wines Petite Sirah Grey Palm Vineyard, Dry Creek Valley 2014 is an intense red wine experience with massive and assertive dark fruits. Novice red wine drinkers easily could be appalled, but take a sip to discover what you may latter appreciate on your life's journey through wine. Even sophisticated sippers initially may be ambushed by its forceful dark grape attack and persistent tannic presence that asserts through its flavor-rich finish. Push on. As your palate adjusts following the brusque attack of the first glass—and after the wine evolves with air—nuances and layers reward your patience and perseverance. Pair with the richest steak or wild game you can grill. It takes monster meat-fat flavors to run stride-for-stride with this behemothian red. Beef tournedos with blue cheese and a loaded baked potato might do. Slow-cooked brisket, well-marbled steak cuts, barbecue also can hang with this imposing red. $50-56