Pale straw color; white peach, pear, tropical fruit on the nose; pear, white peach, citrus, cantaloupe, lemon, apple, hint of honey, minerality on the palate.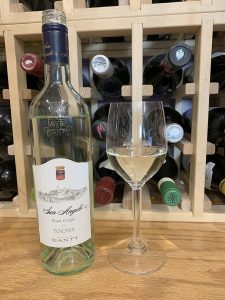 Dry; moderate acidity—5.3 g/L, which is somewhat low for white wine, but appropriate for pinot grigio and this style and from Tuscany. Excellent fruit sweetness and ripeness—which is what your palate perceives as sweet, but it is not residual sugar (RS). Light, crisp, juicy. Very round, smooth, velvety in the mouth—that is the ripe fruit and subdued acidity influence. Easy, easy drinker. At the same time, this has some substance. There are some layers of flavors, even a squirt of grapefruit on the finish I did not notice until the second glass. Temperature-controlled fermentation of fee-run juice leaves a small, natural effervescence. 12.5% ABV
There is a lot of cheap, inoffensive Italian pinot grigio made This is not one of them. This is demonstrates Italian pinot grigio can hang with pinot gris (the same grape, just not made in Italy). Pinot grigio/pinot gris likely is a mutation of pinot noir and gets its name from the pine cone shape of its bunches (pinot=pine) and the gray-blue color of the grapes (grigio/gris=gray).
This comes from the warmer climate of Tuscany, the southern part of Montalcino, thus the reduced acidity. Other Italian pinot grigio come from the colder northeast vineyards, thus the higher acidity. As mentioned, too many of the northeast grapes are grown in the lesser plots to augment the glera/prosecco wines. Banfi sets out to produce a quality pinot grigio in their terroir, and they succeed with an abundantly quaffable creation at nice QPR (quality-price ratio).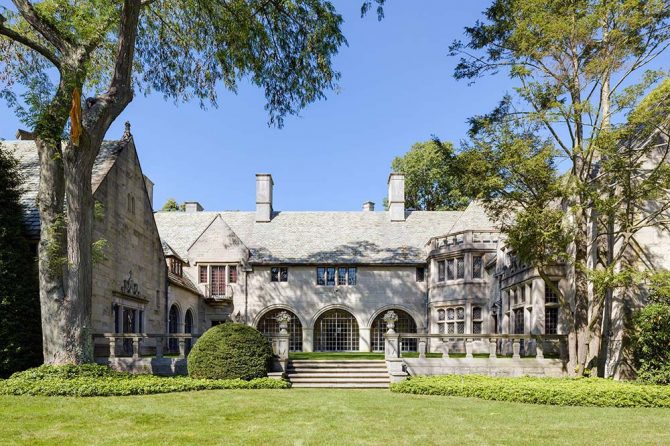 Banfi is an important player in the wine world, and its story is interesting. From the website: "Banfi is a private concern, founded in New York in 1919 by John Mariani, Sr. and today owned and operated by his grandchildren. The company is focused on the production and import of wine."
Castello Banfi is a multi-generation family business. Cristina Mariani-May and her cousin James Mariani manage the business. Cristina graduated from Georgetown University, then earned her master's from Columbia University's School of Business. Under her leadership Banfi was the first winery in the world to earn international recognition for exceptional environmental, ethical and social responsibility. James graduated from Colgate University and earned his master's in business administration at Cornell, so this may be an Italian family business, but they also understand America: smart people making smart wine.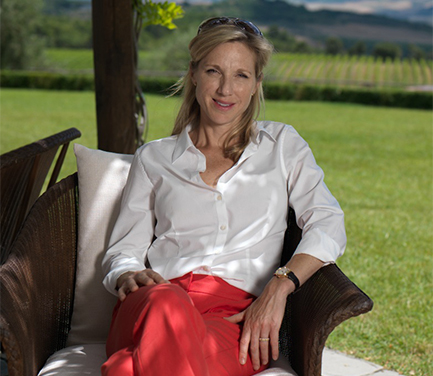 Castello Banfi San Angelo Pinot Grigio Toscana 2019 is delicious, serious version of pinot grigio. The warmer climate of Tuscany sets it apart from product from northeastern Italy. More ripe fruit flavor and substance, less acidity. Very pleasing, edging toward plush in the mouth. Very easy, fun drinker. Easily works an aperitif, particularly among those who are not into assertive, statement wine. Pair with lighter foods: pasta primavera; light fish; pasta with shrimp and zucchini; chicken breasts in light sauces; grilled vegetables; lighter, younger, creamy cheeses. $14-18
Banfi website, plenty of content, worth a visit