Deep ruby color; black cherry, strawberry, cedar on the nose; black cherry, blackberry, blueberry, roasted tomato, balsamic notes on the palate.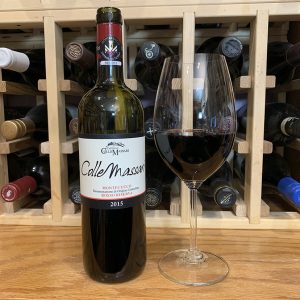 Dry; robust; some earthy notes; significant tannins and balancing acidity. Maker recommends decanting; so do I. Blend of 80% sangiovese, 10% ciliegiolo, 10% cabernet sauvignon. Initial fermentation and malolactic fermentation in stainless steel. Aged 18 months in oak barrels and barriques, half new, remainder second and third use. Matured one year in bottle before release; 14% ABV
Cilegiolo is Italian for "cherry" and has been part of Chianti blends for many years. Same time, it has been obscure for many years. Today, it enjoys a revival and is even bottled as a varietal. Some DNA studies indicate cilegiolo and calabrese di montenuovo are the parents of sangiovese, but others indicate sangiovese is the parent of cilegiolo. Either way, cilegiolo and sangiovese are very closely related. Cilegiolo resembles cherries in both color and aroma. It brings freshness, softness, and a lively note to otherwise heavy wines, which very likely why it is used in this effort.
ColleMassari is the largest estate of the Montecucco appellation. The sangiovese vines are the oldest in the DOCG. Wines have been made here since the 8th century. Maria Iris Bertarelli and Claudio Tipa purchased the vineyard in 1998 with a vision to revitalizing the operation. The winery says this effort is the "signature wine of Castello ColleMassair."
Castello ColleMassari "Colle Massari" Montecucco Rosso Riserva DOC 2015 delivers power and big fruit. Super Tuscan with cabernet sauvignon and ciliegiolo complementing the 80% sangiovese. While bold in flavors, especially cherry, it also has a charming soft element. For a Super Tuscan, it is a surprisingly well behaved easy drinker. Pair with pasta with red sauces; barbecue; grilled steak; steak Florentine; lamb; aged cheese. $24
ColleMassari website, includes a nice video