Deep ruby-garnet color; red fruits, oak spice, earth on the nose; red currant, roasted tomato, black cherry, tobacco, red currant tang on the palate.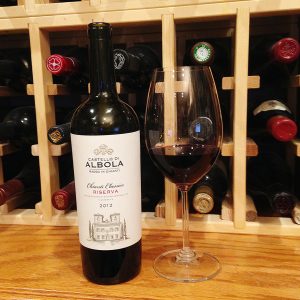 Medium-full body, smooth, dry with nice acidity and minerality. Lean with solid tannin base. Vibrant in the mouth with pleasingly long finish that develops with air/decanting. True to sangiovese and the Radda in Chianti comune (22 miles southeast of Florence) style.
The wines are made in a cellar that is more than 400 years old using grapes from the highest altitude vineyards in the Chianti Classico DOCG appellation (1,150–2,150 feet above sea level). The castle of the winery, illustrated on the label, was built in the 1400s. Grape growing in the area dates back to the 600s (yes, 7th century).
In 1979, the Zonin family acquired Castello d'Albola and promised to maintain commitment to quality. The winery's website notes: "The wines produced in Castello d'Albola have earned the iconic 'Gallo Nero' symbol from the Chianti Classico Wine Consortium, which guarantees the highest standards in winemaking."
Commenting on the 2010 vintage, the winery explained their approach: "Riserva grapes were handpicked and fermented using our traditional methods. After fermentation and maceration, malolactic fermentation occurred in steel tanks. The wine did not go through clarification or filtration, the wine is aged for 2 years in oak. Of which 10% is aged in 225 liter French oak barriques for 1 year, the remaining wine is aged for 1 year in 'Botte' a 3400 liter Slavonian oak barrel. Made from the finest Sangiovese grapes at our estate, its tannins give the wine its extraordinary texture: they are as concentrated as the fruit is mellow. The 2010 shows a distinct tangy quality on the palate and rich fruit on the nose, with evolved tones of fruit and dried flowers. It is a wine that expresses perfectly the terroir of our Chianti Classico zone."
Castello d'Albola Shianti Classico Riserva 2012 is smooth palate pleaser that touches all the Chianti bases. $25