Medium purple-ruby color; plums, red fruit, oak spice on the nose; plum, black and red cherry, vanilla and caramel on the palate.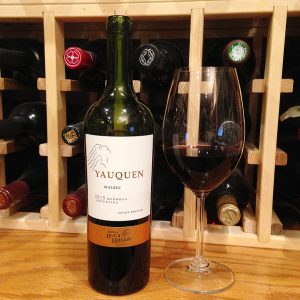 Dry (2.52 g/L), but sweet and fruity taste from oak and ripe fruit; pleasant acidity (3.61 pH) helps give some balance; very restrained tannin. The wine spent a year in oak, 80% French and 20% American, all second and third use which helps give this some restraint while still providing oak elements. Cold fermentation for 10 days and total of 21 days maceration brings out the fruitiness. Full malolactic fermentation. In all, a nice wine for this style and price. As such, somewhat one-dimensional, but the one dimension is a style many people like, especially those intimidated by more complicated, tannic, or robust reds.
The romantic winery name comes from a local legend in Mendoza. According to the legend, love betweens gods and mortals was forbidden, which caused Mapuche women to always look down out of fear of meeting the fierce gaze of a god. One day the most daring Mapuche woman walked with her head raised, and when she met the gaze of a god she met the gaze without fear and instantly fell in love. The god, touched by her love and courage, offered the woman an elixir to join him as an eternal being. In return, she gave him a home, "the young girl's house"—Ruca Malen—so they could together create a new lineage of legendary gods. The Argentine bodega strives to do the same with this wine.
There are two stories going on here when it comes to the wine "The Young Girl's House" produced: Bodega Ruca Malen, a quality Mendoza maker ("Modern, nicely crafted wines designed for the table, easy to drink"—Luis Gutiérrez/The Wine Advocate), and the U.S. importer, Hubert Opici, a legend in the wine world. I've included links to the winery website and links to an informative Opici's website video, plus a link to great interview by Gary Vanerchuk with Hubert Opici. If you are deep into wine knowledge, you will enjoy the videos. If you are just sorta into wine, you will enjoy this fruit-forward, nicely priced red. If both, thank me in the morning.
Ruca Malen Yauquen Malbec Mendoza 2015 displays concentrated red and black fruits, riffs of oak sweetness, caramel, and vanilla from attack to finish; unobtrusive tannins. Very nice value for price for those who want a simple pizza pairing, or pair with roast meat, lamb. $10-12
Ruca Malen winery website
U.S. importer video
Vanerchuk interview with Hubert Opici