Medium straw color with hint of green; golden apple, white peach on the nose; golden apple, honeydew melon, white peach, apricot, honey on the palate.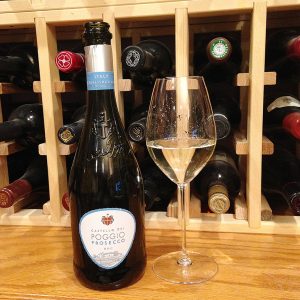 Demi-Sec (sweet); beautifully delicate perlage (bubbles); crisp, very fruity nicely balanced with acidity. While this is demi-sec, the vividness and quality of the fruit means this is not cloying or too sweet. I prefer dry and off-dry wine, but I found this wine enjoyable, and would not hesitate to pour as party-starter aperitif for a mixed group of wine palates.
Castello del Poggio is a vineyard, winery and brand of Zonin, Italy's largest privately-held wine company. Castello del Poggio is a major producer in Piedmont region of northwestern Italy and takes its name from a Knights Templar castle that protected the city of Asti. The estate is located entirely in the town of Monferrato, 14 miles southeast of Asti.
By regulation, Zonin's prosecco is made using glera grapes harvested in the Prosecco region of northeastern Italy above Venice. It is the only Castello del Poggio wine made with grapes from the Prosecco region, although Zonin has other brands the make or specialize in prosecco. This effort demonstrates Zonin's growing reach in Italian winemaking.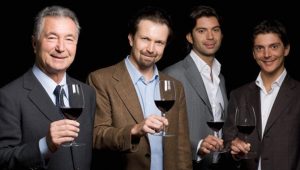 Established in 1821, Zonin now is in its seventh generation of family ownership. Domenico Zonin took over management of the company from his father, Gianni Zonin, in 2004; Gianni had run the business since 1967. During Gianni's 37 years at the helm, he took the company from a local maker in Vicenza to its present position as the "Gallo of Italy" by emphasizing a green approach to ecologically sustainable viticulture and control of the wine process from vineyard to distribution, and aggressive international marketing and distribution.
Castello del Poggio Prosecco DOC Demi-Sec is crisp and lively, definitely has sweetness, but not so much as to completely put-off a dry wine lover. Excellent fruit, balance, elegance. Pair with seafood, cured meats, boneless chicken, even desserts. Certainly will work as aperitif; strongly consider as one of the wines at a party where there will be sweet wine lovers. $13
Zonin website pages for Castello del Poggio