Deep purple color; dark fruits, blackcurrant, violets on the nose; dark cherry, blackcurrant, blackberry, black pepper on the palate.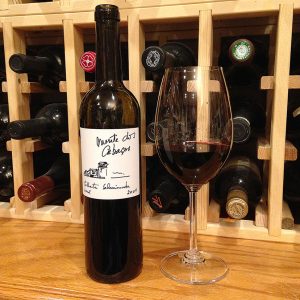 Dry; no oak; wonderfully silky tannins that have enough backbone to play well with rich meats. Nice density in the mouth; reserved acidity, but enough to play in harmony with the various delicious elements of this effort. Beautiful fruit is vivid throughout the tasting experience thanks to 100% aging in stainless steel, no oak influence at all. That was followed by patience; bottles were not released for six-seven years. Many times when a winery holds back its bottles that long, you pay five to ten times what this costs. Exceptionally delicious and pure expression of Alentejo region fruits, awesome example of the huge values available in Portuguese wine today.
This is an amazing tour de force in grape growing and wine making. Blend of 45% alicante bouschet, 30% touriga nacional, 20% aragonez, 5% cabernet sauvignon; all from vines 25-35 years old. Delicious on multiple levels from attack, through mid-palate, through a long tasty finish. The interplay of the silky tannins and the superb fruits holds together throughout this exceptional experience.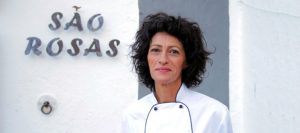 Winery founders Joaquim and Margarida Cabaço grew up in tiny village of Gloria in the eastern Alentejo region of Portugal. They left to see the world—Paris, Buenos Aires, Milan—then returned in 1982 and started a winery in 1983. In 1994, Margarida opened her acclaimed Sao Rosas restaurant. Joaquim primarily grows grapes for other wineries, but keeps the best to produce about 600 cases of wine a year, mostly to supply his wife's restaurant. Joaquim says tranquility and patience is key to high quality wine, so he holds back his reds for six to seven years. They have expanded production now to some 100,000 bottles, but this effort shows they still patiently aim for excellence. Their son, Tiago Cabaço, now is the winemaker.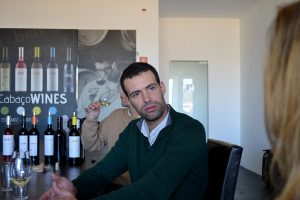 Monte dos Cabaços Tinto Regional Alentejo 2009 is very seriously good wine, at this price one of the greatest value-for-price pours I have ever had privilege to pour. Big wine, but the power and flavor was achieved by great fruit on no oak at all, a signal accomplishment. Pair with grilled and roasted beef, lamb, veal, wild game and other hearty dishes. $19-21
Page from Wines of Portugal website