Pale gold color; white peach, nectarine, lime, minerals on the nose; white peach, lemon, kiwi, cantaloupe, kiwi on the palate.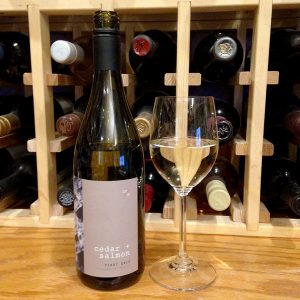 Dry; light, delicate body, no tannins, very mild acidity (3.94 pH). The Willamette Valley fruit was allowed to ripen to its fullest, which delivered the illusion of sweetness, but worked against acidity. That produced a very easy drinker that will appeal to a range of palates.
Cedar + Salmon is a brand of 3 Badge Beverage Corporation—wine brands include Cedar + Salmon, Gehricke, Hey Mambo, Lesse-Firch, Moobuzz, Pennywise, Plungerhead, and The White Knight. The company formerly was named The Other Guys.
3 Badge/Other Guys president August Sebastiani is a fourth generation California winemaker (you likely recognize the last name). The company is a negotiant operation that buys grapes or juice, then produce wine (rather than having vineyards of their own).
3 Badge Beverage purchased the old Sonoma Firehouse in June 2015 to convert to company offices. Researching the old building, Sebastiani found a number of documents revealing his family's involvement with the firefighters. His grandfather (also named August Sebastiani) worked in the firehouse as a volunteer fire fighter. The family discovered three services badges from his grandfather's time as a fire fighter—active, retired, honorary—and thus the 3 Badge Beverage Corporation name.
The wine division of the enterprise is 3 Badge Enology. The spirits division is 3 Badge Mixology.
Cedar + Salmon Pinot Gris, Willamette Valley 2018 is clean, delicate, demure, very easy drinker that certainly will appeal to those who want their wine well behaved with gossamer tiptoes on their palate. The fruit is direct and delicious—the wine maker clearly wanted the ripe fullness of the pinot gris fruit to shine, and succeeded. You could ask for more sharpness and cool-climate acidity to widen its appeal with food, but that seems to miss the point. This is delightful, airy wine with balance and deliciousness. Appreciate it for what it is. The obvious use is an aperitif, especially among dainty drinkers—think book club, mah-jongg, or bridge gathering. Also with lighter grilled fish, roasted chicken, salads with fruit elements. $18-19
Cedar and Salmon Wines website