Deep gold color with hint of green; bread yeast, citrus, peach, grass, flowers on the nose; oranges, apricot on the palate.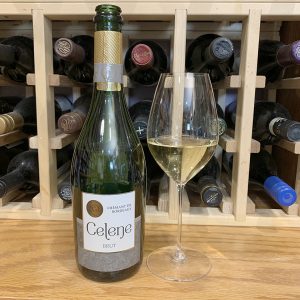 Brut; very soft and creamy in the mouth; medium acidity. Very fine bubbles. Fruity and round. Blend of 50% sémillon, 30% muscadelle, 20% cabernet franc—classic white Bordeaux grapes; 12% ABV.
Celene is located in the village of Haux in the heart of the Entre-Deux-Mers region in Bordeaux. They specialize in crémant de Bordeaux. Grapes come from various growers in the region. The grapes are picked in late August and early September, depending on weather and ripeness. They are pressed in stages, with the resulting juices used in blending.
Fermentation occurs, followed by bottling and second fermentation in the bottle—the traditional method of making Champagne. But this is Bordeaux, thus the name "crémant," which is sparkling wine made in France but not in the Champagne region.
Celene Crémant de Bordeaux Brut NV is a simple, smooth, very easy drinker. You are drinking a white Bordeaux sparkling, which is different from a classic sparkler made from chardonnay, pinot noir, and pinot meunier. Reduced acidity and soft and creamy are hallmarks. This will work nicely as an aperitif, especially for sippers who recoil at the sharpness of Champagne or classic grape sparklings. Pair with lobster; fish dishes; light meats—chicken, pork chops; tofu-stuffed peppers; fish tacos. $15-17