Medium yellow-gold color; citrus, honey, white fruit, brioche on the nose; pure, intense, and delicate flavors of lemon, green apple, honey, minerality, salinity on the palate.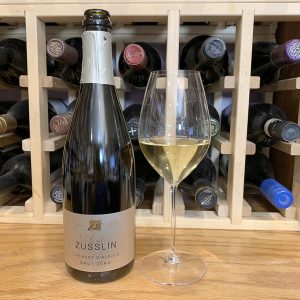 Brut zero is the very driest sparkling wine with less than three grams of residual sugar. This sparkling Alsace appears to be a blend of chardonnay, pinot gris, and auxerrois. Enchantingly charming with its elegance, delicacy, finesse. Complexity from more than a year on the lees. Delicate, very persistent bubbles. Medium body; 12.5% ABV.
Even with zero sugar, there is clear sensation of sweetness on the initial attack, but that is contraposed by minerality and salinity in the mid-palate and extended finish. Solid beam of acidity throughout. Alsatian terroir, with mostly dry and sunny summers, allows for excellent ripening of grapes. That, in turn, encourages low or no dosage and very dry wines—thus this brut zéro. Brut zéro wines emphasize terroir and pureness of the fruit. This certainly does.
Fermentation occurs, followed by bottling and second fermentation in the bottle—the traditional method of making Champagne. But this is made in Alsace, thus the name "crémant," which is sparkling wine made in France but not in the Champagne region. French crémants very often deliver exceptional value. This is higher end of crémant, but worth it. It consistently scores in the 90s for those into wine scores.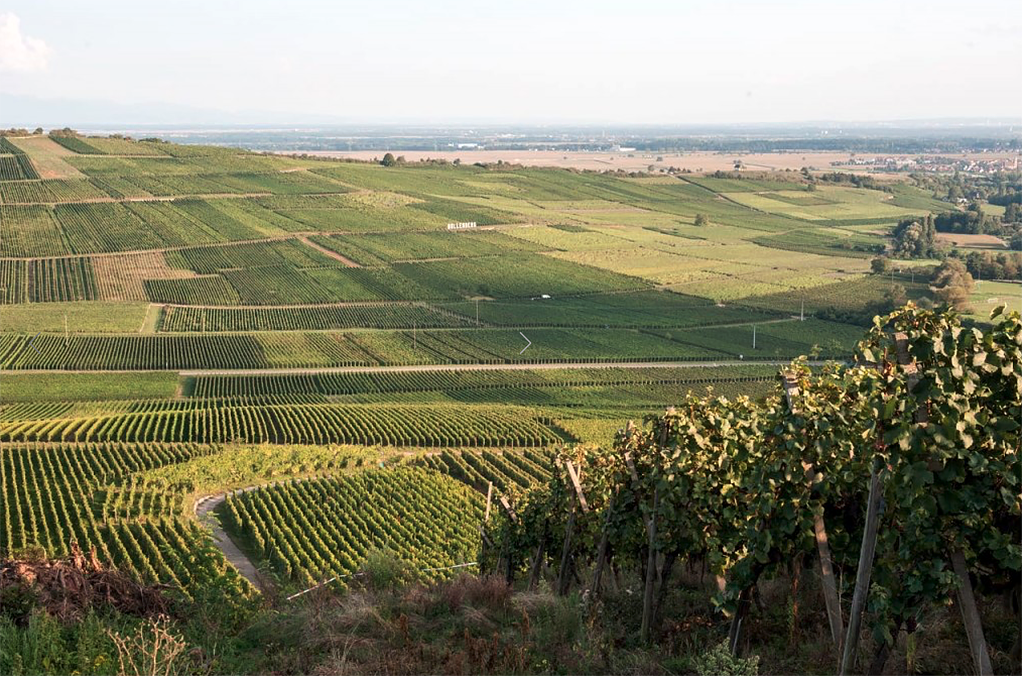 Domaine Valentin Zusslin was established in 1691. The winery is based in Orschwihr, South of Colmar, and the vines are planted on the slopes of the Bollenberg, Clos Lieben-berg and Grand Cru Pfingstberg. Today, the 13th generation—the brother-sister team of Jean-Paul and Marie Zusslin—manage the domaine. All farming has been biodynamic since 1997. No sulfur was used in production of this wine.
Most of the work in the vineyards is done by hand. Horses were introduced for vineyard tasks. The website notes their biodynamic process improves the quality of the soil due to the presence of a large variety of organisms; vines develop denser, more developed roots; better development of leaves and flowers because of the emphasis on the vineyard being regarded as a complex organism—from the people, to the horses, to the weed-control sheep, to the birds and wildlife, to the organisms in the soil.
Domaine Valentin Zusslin Crémant d'Alsace Brut Zéro NV is exceptionally crisp, clean, fresh, balanced. Delicious fruit, delicate elegance, really nice example of Alsace crémant. Enjoy this for the purity and expression of Alsatian terroir. Excellent as an aperitif. Pair with sushi; sashimi; oysters; grilled fish—sole trout; caviar. Bubbly, especially taut, tart, excellent acidity bubbly as this is, can pair with almost anything you want to eat. $27-34