Deep gold color; raspberry, apple, orchard fruit, bread yeast on the nose; redcurrant, almond, lemon, crème brûlée, baked apple, pie crust on the palate.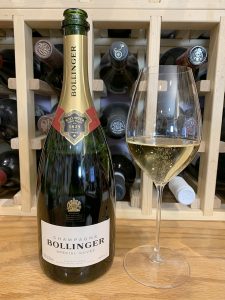 Brut; snappy acidity; pinch of saline on the finish. Big, rich, balanced. Barrel fermentation adds complexity and depth to this consistent winer. Blend of 60% pinot noir, 25% chardonnay, 15% pinot meunier. Medium-plus body. Fine and persistent mousse. Creamy with crisp, precise finish. Bollinger consistently delivers, and does so again with this effort; 12% ABV.
The Bollinger story begins with Athanase de Villermont, the youngest son of a French noble family. He fought with distinction in the American Revolution, then inherited a large estate from his family in the Aÿ region of France. He saw promise in the land, but as an aristocrat could not become involved in trade. Athanase met Joseph Bollinger, a German who had come to the Champagne region, and Paul Renaudin, a local man fascinated by wine. They created the firm of Renaudin-Bollinger & Cie in February 1829.
Joseph Bollinger had the good sense to marry Louise-Charlotte, the daughter of Athanase de Villermont in 1837. In time, their sons, Joseph and Georges took over the business. In 1920, Jacques Bollinger, Georges's son, after the death of his father, found himself at age 24 in charge of the House. Fluent in English, Jacques especially promoted his Champagne in England.
Bollinger eventually moved into its chapter as one of historic "widow houses" of Champagne's upper tier of makers. Elisabeth Law de Lauriston-Boubers married Jacques Bollinger in 1923. They vigorously promoted their Champagne house until his death in 1941. She saw the house through World War II. In 1969, to mark her 70th birthday, she introduced Vieilles Vignes Françaises, the first Champagne made with 100% pinot noir. She also created Bollinger Rosé, another breakthrough. She famously oversaw her operation from a bicycle. Oh, and she so charmed Ian Fleming that his character James Bond would only drink Bollinger Champagne. A masterstroke of product placement. Champagne is what it is today by the vision and talent of such women as Elisabeth Law de Lauriston-Boubers Bollinger.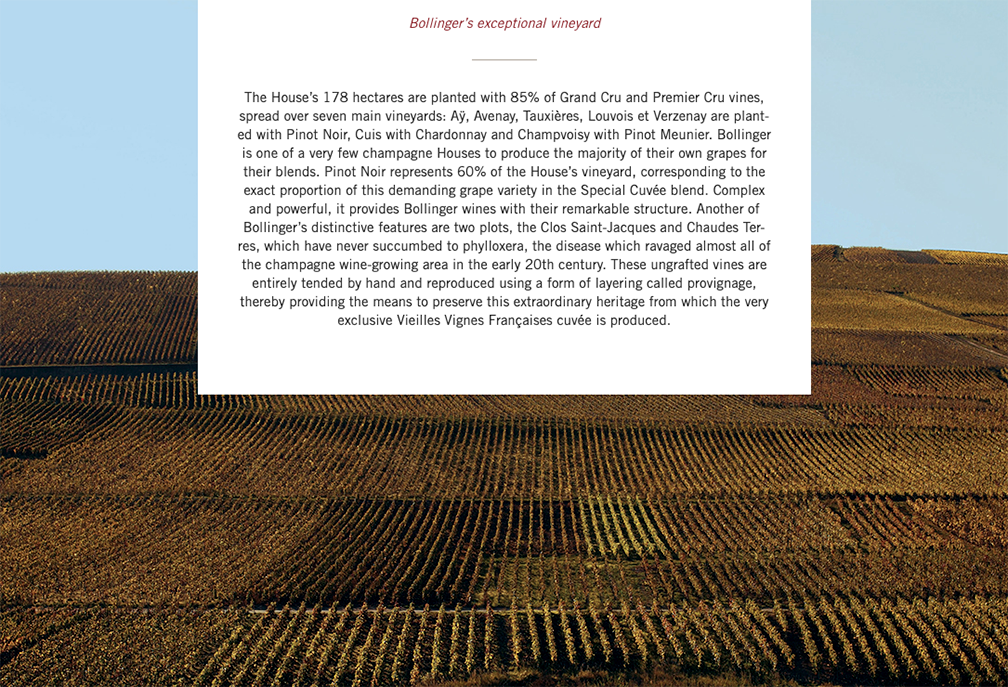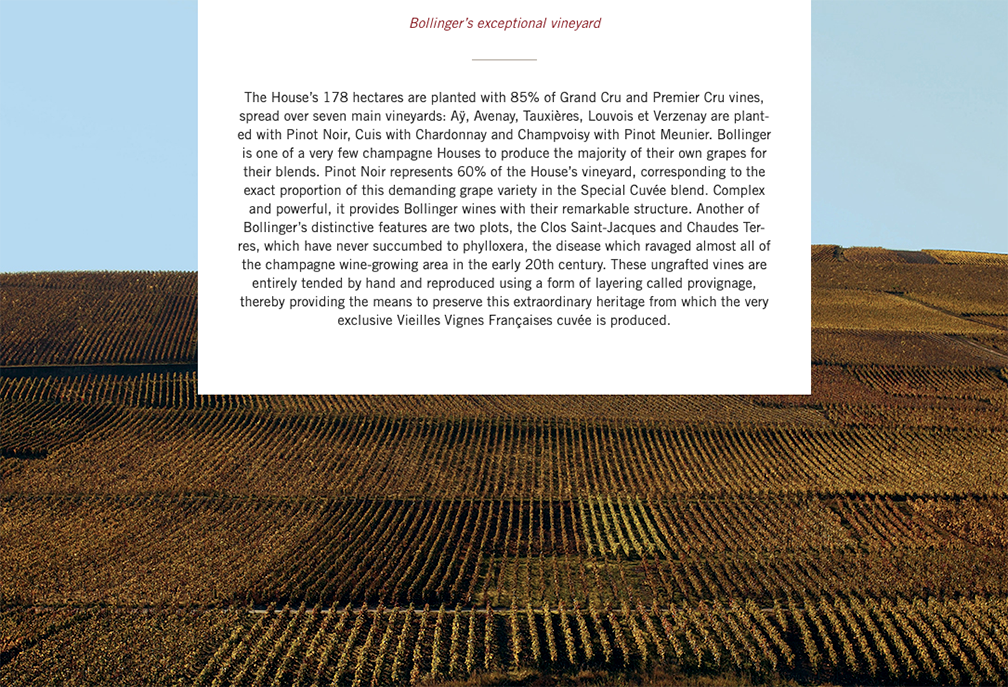 Bollinger's 440 acres of vineyards include 85% Grand Cru and Premier Cru vines. They are spread over seven main vineyards, with 60% planted in pinot noir. Two of the plots, Clos Saint-Jacques and Chaudes Terres, never suffered from phylloxera. The website notes: "These ungrafted vines are entirely tended by hand and reproduced using a form of layering called provignage, thereby providing the means to preserve this extraordinary heritage from which the very exclusive Vieilles Vignes Françaises cuvée is produced." Those grapes don't make it into this effort—you pay a lot more for that, but do highlight Bollinger's aristocratic heritage.
Champagne Bollinger Special Cuvée Brut NV is classic Champagne from a premier maker. Rich and balanced with appropriate acidity and impressive depth and complexity. Pinot noir is the lead grape, setting it apart from other premier houses where chardonnay often plays the dominant role. Works as an aperitif and as an upscale toasting wine at an event such as a marriage or anniversary. Sparkling is extraordinarily versatile as food pairing wine, Bollinger especially so with its pinot noir base. Pair especially with fish, seafood, shellfish—shrimp, prawn, crayfish, grilled lobster, sushi and sashimi; poultry dishes, including turkey; white meat in general; charcuterie; hard cheeses such as Parmesan. $50-68