Medium copper color; red fruits—raspberry, strawberry, plum, pink grapefruit, freshly baked bread on the nose; cherry, ripe raspberry, strawberry, yeasty flavors on the palate.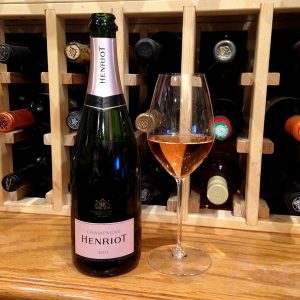 Brut; rich, excellent balance and depth. Lively and fresh in the mouth with crisp acidity. Fine and very persistent bubbles. Peach elements emerged on my mid-palate in the second glass, along with a hint of cotton candy and nice minerality on the long and satisfying finish.
Pinot noir from Montagne de Reims makes up majority of the blend, with assistance from chardonnay from Côte des Blanc and a touch of pinot meunier—the classic Champagne trio.
Sometimes called the best Champagne house you've never heard of, Henriot is a small, privately-owned house founded in Reims in 1808. Champagne Henriot belongs to an exclusive group of independent, 200-year old family-owned-and-managed champagne houses. Champagne Henriot is best known for its unique style driven to present a rich, pure expression of chardonnay. Interestingly, this effort vividly demonstrates they know their way around pinot noir, too. According to their website: "Time is our ally and patience our secret" says Joseph Henriot. "They are the fundamental elements to our success."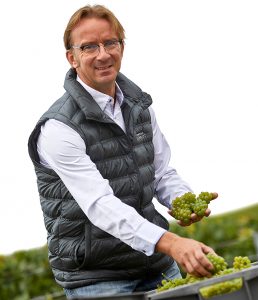 Laurent Fresnet is the cellar master and director of vines and wines at Champagne Henriot, a seventh generation vigneron and wine grower in the Montagne de Reims area. He is a graduate of the University of Reims with degrees in Biochemistry, Oenology, and Wine Management, he also studied in Avize, a well-known Champagne research center.
After graduation, Fresnet worked in New Zealand, South Africa, Portugal, Germany, Southern France, and Burgundy. Laurent joined Champagne Henriot in 2006. As cellar master and director of vines & wines, Fresnet oversees everything related to the vines and wines that go into the house's cuvées.
According to the winery's website: "Laurent defines Champagne Henriot's house style as the culmination of unique terroirs, combined with freshness, fruitiness, minerality and high ageing potential. Fresnet puts critical importance on supply in maintaining Champagne Henriot's consistency and quality. He keeps a very close watch on the wine growers, then focuses his attention on blending, using a selection of reserve wines with a high potential for ageing, dominated by Chardonnay, to obtain perfect maturity before disgorgement."
Champagne Henriot Rosé NV is serious sparkling that is seriously delicious, elegant, and luxuriously sophisticated. It consistently receives high praise, especially for a Champagne at its price point—which is an entry level in the rarified world of world-class Champagne. This will work wonderfully as an aperitif. It will pair with a smorgasbord of food. If you want to get exotic—butternut squash and goat cheese ravioli, poultry pie with chicken (bstilla). More conventionally—cracked crab, tuna tartare, smoked salmon with crème fraiche and caviar, pork-based dishes, fruit desserts. $62-70