Medium gold color; yellow apple, pear, tangerine on the nose; yellow apple, peach, starfruit, minerality on the palate.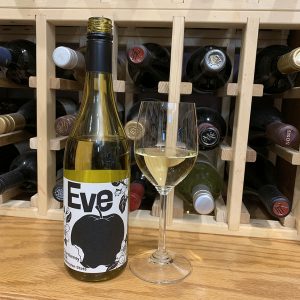 Dry to off-dry; bright, creamy easy drinker. No tannins, okay acidity—almost flirts with flabby. This falls in line with previous vintages, although I catch a waxy element that either was not part of the 2015 effort, or I missed it then. I also enjoyed the previous vintages more.
This is down-the-middle chardonnay play. There are no distinguishing or outstanding elements, other than there are no gross mistakes. Charles Smith took no risks, an interesting ploy from this maker. If you want an inoffensive, easily affordable, very well distributed Washington State chard, this fits your bill.
Medium body with nice texture and balance; acidity, touches of minerality. Only hints of oak and butter, my guess is this mostly fermented in stainless steel, but some in oak. It also appears only limited portion of the juice underwent malolactic fermentation, enough to give it a creamy texture, but not so much to fuzz up the fruit with pats of butter. Much is made of the fact that this was made by native yeasts. Well, they did the job. I wish the website revealed more details, but it does not; 13.5% ABV.
Winemaker Charles Smith is a self-taught wine wunderkinder. He started out managing rock bands, including the famed Danish duo The Raveonettes. In 1999, while on a road trip to Walla Walla, WA, he met a winemaker who convinced Charles to start making his own wine. In 2001 he released 330 cases of his first creation. Eight years later, he was named winemaker of the year by Food & Wine magazine. Seattle Magazine named Smith "Winemaker of the Year" in 2010. Wine Enthusiast named him winemaker of the year in 2014.

In late 2016, Smith cashed in by selling his brands to Constellation Brands, world's largest winemaker, for $120 million. Smith remains a consultant to the brand. In addition to Charles Smith Wines, other Smith-founded brands include: Sixto, Charles & Charles, Vino, Wines of Substance, Secco Italian Bubbles, and Casasmith. Designer Rikke Horff, a longtime friend of Smith, designs the labels for Charles Smith Wines.
Three tasting rooms demonstrate the winery's Washington embrace. Charles Smith Wines Jet City is located next to the main runway of Boeing Field in Seattle. Downtown Walla Walla tasting room is located in a converted auto-repair warehouse and invites sidewalk seating in Walla Walla. K Vintners Tasting Room is located at the base of the Blue Mountains on historic farmland homesteaded in 1853 and adjacent to a farmhouse built in 1872.
Charles Smith Eve Chardonnay, Washington State 2016 is light, fruity, and inoffensive—which is both praise and a problem. Eve makes no statement. Very smooth, easy drinker. It is plain ol' chard. Serve well chilled. Widely distributed, sold in grocery stores—including Sams Club. You have a good chance of getting lucky with a discount. Pair with sautéed shrimp; grilled halibut with pineapple salsa; lobster, shrimp, crab, scallops; subtly flavored, simply seasoned poultry and pork dishes; risottos and cream-enhanced soups, sauces, pastas. Avoid aggressively seasoned food, spicy food, bitter greens and vegetables. $11-13