Medium straw color; citrus zest, lime on the nose; grapefruit, lemon, white peach, pear, apricot on the palate.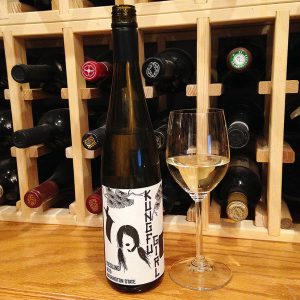 Semi-dry with vivid fruit balanced by great acidity (3.05 pH) that provides a nice tang and minerality; some honey mid-palate; lime appears on the pleasingly long finish. Light-medium body with unctuous quality in the mouth. Often called classic example of Washington State riesling; grapes grown along steep cliffs along Columbia River in Washington's newest AVA, Ancient Lakes. Wine Spectator ranked this 45th among the best 100 wines of 2016.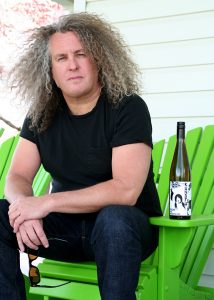 Winemaker Charles Smith is a self-taught wine wunderkind. He started K vintners to make Charles Smith Wines in 2006 with the goal of creating wines in Washington State that would be enjoyed now, soon after release, and also were true to the varietal grape and the vineyard, and particularly targeted to millennials in its marketing and flavor profiles.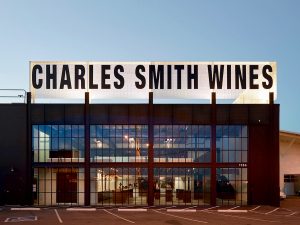 Wine & Spirits named Smith's K Vintners "Best New Wineries of the Last Ten Years" in 2008 and as "Winery of the Year." Food & Wine named Smith "Winemaker of the Year" in 2009. Seattle Magazine named Smith "Winemaker of the Year" in 2010. Wine Enthusiast named Smith "Winemaker of the Year" in 2014. Whew. That is a lot of big-time baubles early and quickly in a career. In late 2016, Smith cashed in by selling some of his brands to Constellation Brands, world's largest winemaker, for $120 million. Smith remains as a consultant to the brand and retained ownership of K Vintners, makers of the wine.
In addition to Charles Smith Wines, other Smith-founded brands include Sixto, Charles & Charles, Vino, Wines of Substance, Secco Italian Bubbles, and Casasmith. Click K Vintners link below to a neat opening video with Charles Smith laying out his mission, plus other entertaining videos.
Three tasting rooms demonstrate Smith's Washington embrace: Charles Smith Wines Jet City is located next to main runway of Boeing Field in Seattle, Downtown Walla Walla is located in converted auto-repair warehouse and invites sidewalk seating in Walla Walla, K Vintners Tasting Room is located at the base of the Blue Mountains on historic farmland homesteaded in 1853 and adjacent to a farmhouse built in 1872.
Charles Smith Kung Fu Girl Riesling Washington State 2015 is delicious, food friends, superb example of semi-dry Washington State riesling effort at a great price. Pair with seafood, shellfish, spicy food, Asian cuisine, Mexican food, pork, turkey or chicken, salads—the wide range you expect from riesling of this type and quality—and also would work as aperitif or with light cheese and finger foods. $11-13