Very pale salmon color with hint of gold; strawberry, watermelon on the nose; blood orange, lemon, citrus, red berry fruits on the palate.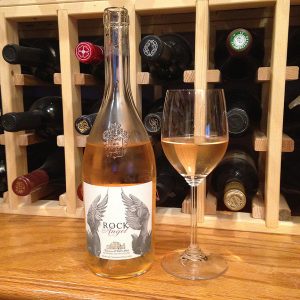 Dry; medium body, satiny texture; fruit forward; rich and elegant. Minerality, acidity, a small bite of redcurrant tang and whiff of smoke on mid-palate through finish. No noticeable oak, although it does spend some time in barrel. Blend of grenache and rolle (vermentino).
Château d'Esclans introduced new packaging with the 2015 vintage of Rock Angel estate-bottled rosé. The new label features a smaller Château d'Esclans logo and more prominent Rock Angel imagery that includes two Hello Von drawings of women with wings on their heads and arms. Previously known as merely Château d'Esclans Rosé, the new iteration's strategy is to be an edgy contrast to the company's entry level Whispering Angel rosé ($22). The château's prestige cuvées include Les Clans ($60) and Garrus ($100). Château d'Esclans produces some 415,000 cases of this each year, with almost half shipped to U.S. Château d'Esclans is one of the top 10 French wine labels in the U.S. and accounts for roughly 20% of all Côtes du Provence rosé sold in the U.S.
Château d'Esclans is located in the Department of the Var, where the majority of Provence rosé is produced. The original château dates to before the 12th century; only the cellar remains today. In 1201, Gérard De Villeneuve, part of a wealthy family from Marseille, took ownership of the château and the majority of the surface area of the Vallée d'Esclans that would eventually be sold off in lots.
Two brothers, Sauver Louis Ranque and Francois Alexandre Ranque, were the next to own the château, known then as Terre d'Esclans. In 1875, they sold the property to Joseph Toussaint Caussemille, who manufactured wooden matches near Marseilles. In 1955, the Perraud family bought the property. In 1994, it was purchased by a Swedish pension fund that produced a small amount of wine and sold the remaining grapes to neighboring winemakers. Sacha Lichine, a negociant, sommelier, and wine distributor acquired Château d'Esclans in 2006. Today there are 108 acres of vineyards. The total property has 659 acres.
Château d'Esclans Côtes de Provence Rock Angel Rosé 2015 shows nice depth and complexity; creamy, sophisticated, elegant. $31-36