Deep gold color; pear, tangerine apple on the nose; citrus, lime, apple, peach on the palate.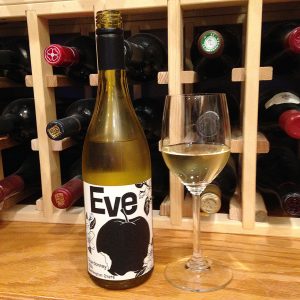 Clean, bright and tangy with nice acidity (3.54 pH); dry (5.5 g/L); round, medium body, and delicious; good minerality. Very nice expression of cooler-climate, Washington State chardonnay where the winemaker stands back and lets the land and fruit be what they are rather than what the winemaker's will can impose upon the product.
Jerry Milbrandt planted the Evergreen vineyard that provided the fruit for this effort in 1998. The vineyard rows lie along a stretch of steep cliffs above the Columbia River in the Ancient Lakes AVA, the newest AVA in Washington. It is a cool climate site, helping with the good acidity; the vines are planted in fragmented basalt, gravel silt, and caliche deposited during ice age floods, all of which contributes to the minerality found in this wine.
Winemaker Charles Smith works at letting chardonnay be chardonnay with reserved use of oak and malo, whole cluster pressing, fermentation on the lees, and five months barrel aging on the lees, no new oak, 20% malolactic fermentation. Smith is a self-taught wine wunderkind. He started Charles Smith Wines in 2006 with the intent to create wines that would be enjoyed now, soon after release, and that also were true to the varietal grape and the vineyard, and particularly target millennials in its marketing.
Wine & Spirits named Smith's K Vintners "Best New Wineries of the Last Ten Years" in 2008 and as "Winery of the Year." Food & Wine named Smith "Winemaker of the Year" in 2009. Seattle Magazine named Smith "Winemaker of the Year" in 2010. Wine Enthusiast named Smith "Winemaker of the Year" in 2014. Whew. That is a lot of big-time baubles to accumulate early and quickly in a career. In late 2016, Smith cashed in by selling his brands to Constellation Brands, the world's largest winemaker, for $120 million. Smith remains as a consultant, and retained ownership of K Vintners.
In addition to Charles Smith Wines, other Smith-founded brands include Sixto, Charles & Charles, Vino, Wines of Substance, Secco Italian Bubbles, and Casasmith. Google K Vintners for link to a neat opening video with Charles Smith laying out his mission. Three tasting rooms demonstrate Smith's Washington embrace: Charles Smith Wines Jet City is located next to main runway of Boeing Field in Seattle, Downtown Walla Walla is located in converted auto-repair warehouse and invites sidewalk seating in Walla Walla, K Vintners Tasting Room is located at the base of the Blue Mountains on historic farmland homesteaded in 1853 and adjacent to a farmhouse built in 1872.
Charles Smith Eve Chardonnay Washington State 2014 is excellent example of chardonnay with clean, rounded flavors, excellent acidity and minerality. Deftly aimed at millennial market. $12-13