Medium yellow-gold color; lime, grapefruit, pear, passion fruit on the nose; gooseberry, lemon, lime, peach, melon on the palate.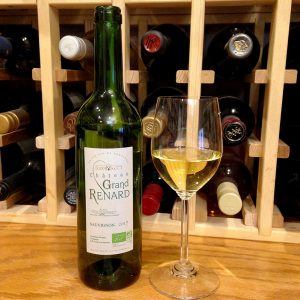 Dry; rich and delicious in the mouth with slight oiliness to further enhance the texture and mouthfeel. Blend of 70% sauvignon blanc, 30% sauvignon gris. Although reasonably priced by American standards, this is high end for Côtes de Bordeaux white wine, and it certainly drinks like a high-end wine. Great, delicious value. Get this if you can.
I could not find technical numbers, but there is good, crisp acidity and balance. Impressive complexity. At 12.5% ABV, it is versatile and built for both food and sipping on its own. Soft deliciousness with juicy fruitiness are the adjectives that dominate my thinking about this wine. This is nothing like a New Zealand sauv blanc, or even a French Sancerre or Pouilly-Fumé where minerality is key characteristic. You do not get searing, razor on the tongue sharpness with Château Grand Renard's effort. You get a delicious, nicely complex and sophisticated wine.
The Blaye Côtes de Bordeaux has a different feel from Medoc/Pauillac, which is just across the Garonne estuary. This part of the right bank was a place of pine trees and acacia, a heaven and a haven for foxes. Thus the name: Grand Renard—"Big Fox" in French. The Joubert family owns 54 acres of vines in this area, 75% planted in Bordeaux reds, the remainder in Sauvignon blanc/gris.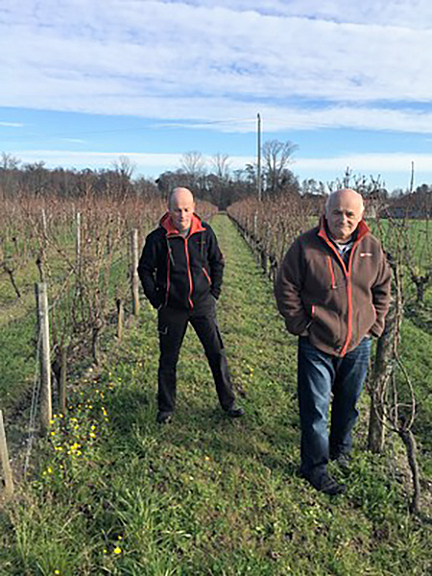 The family grew cereal, asparagus, tobacco and raised cattle for four generations until turning to grape farming in the 1980s. Francis Joubert was a pioneer in organic farming from the beginning. The winery received AB certification in 1987. Since 2002, Francis's son Sylvain has carried on the tradition alongside his father.
Château Grand Renard Sauvignon, Blaye Côtes de Bordeaux 2017 is a beautiful wine with layers of fruit framed around a creamy mouthfeel balanced by crisp acidity. Demonstrates how versatile and terroir-sensitive sauvignon blanc/gris can be. Also how Bordeaux can soar with white wine just as it can with red. Excellent as aperitif, it deliciousness makes it a joy to sip solo. You certainly could pair with shellfish, light fish, poached salmon, sushi, garden salads; can work with grilled chicken and lighter meats, too. $15-18
Château Grand Renard website (French)