Deep ruby color; blackberry, strawberry, leather on the nose; blackberry, black cherry, sweet tobacco on the palate.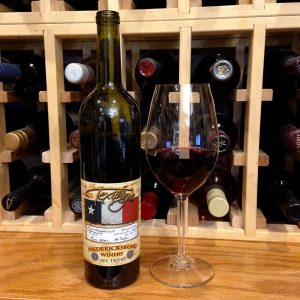 Dry; rich, juicy fruit; flirts with jammy. Product of idiosyncratic Texas winery. Label and website do not reveal the grapes, I'm sure this is zinfandel, almost certainly from the Texas High Plains AVA around Lubbock, while the winery is in the Texas Hill Country AVA in Fredericksburg. That is standard in Texas.
Vivid fruits give this an illusion of sweetness, but I believe this is from extremely ripe grapes, not residual sugar. As mentioned, the Fredericksburg Winery marches to its own drummer, so insight into composition of this offering just doesn't exist on label or website. Taste it. If you like it, drink some more. This resembles a zin and petite sirah offering from Lodi with a Texas twist, but I understand this is all in with zin. Whatever, it works.
The explanation of the "Texitage" name on the label (it extolls the majestic virtue of the March 2, 1836 Texas Declaration of Independence) doesn't make much sense if you are not a Texan, but it may suggest this is Texas version of a meritage wine—which would suggest a Texas Bordeaux blend, except this likely is all zin, which is not part of meritage formula. The almost jammy, really ripe fruit frontal attack will please big, ripe fruit lovers. The surprise is the relatively low alcohol: 13.5% ABV. Very interesting wine.
Texas wineries and tasting rooms are more famous and fascinating than Texas vineyards. Go to Napa for bucolical beauty. Come to the Texas Hill Country AVA if you want welcoming tasting rooms, thigh-slapping fun, and outrageous characters. Outrageous character is where Cord Switzer enters this review. The Switzer family owns the iconoclastic winery. If you visit Fredericksburg, the Fredericksburg Winery and Cord Switzer are must visits.
Frolicking behind the serving bar, Cord generates almost non-stop banter. One signature line: "If you don't like the wine, pour it in that bucket over there. We ship it to California and they turn it into merlot." He also proudly touts his nickname. "It is short for nothing. My real name is Spencer Alwin Switzer Jr.—you try saying that after drinking wine all day."
Cord flew helicopters in Vietnam, then taught at the university level for 20 years. His wife Sandy, the general manager, was a wine buyer for American Airlines. Cord blames her for getting him into wine. Thank her when you visit.
The winery makes some 7,000 cases a year from purchased grapes. "Negotiant" likely is a little too effete for a Texas operation. You can see the winemaking in the back of the tasting room building. Sales come from the tasting room and over the phone—(830) 990-8747. No internet or wine club sales. Fredericksburg Winery only ships in Texas; give them a call for details. Expect to be entertained even when you use such utilitarian communications. Like many Texas wines, Fredericksburg Winery Texitage is worth the trouble to obtain.
Fredericksburg Winery Texitage 2015 is almost over-the-top, almost jammy, a massively ripe red fruit fandango you have to experience yourself to fully appreciate. There are legions of big California cab-blends and zin master mash ups that can run with this renegade Lone Star big dog, but you gotta put this on your bucket list to be a true connoisseur. Pair with intense fare such as Texas barbecue, porterhouse steak, prime rib, roast beef, teriyaki, carne asada, pasta dishes with marinara sauce, grilled vegetables. Or just drink it around the fire pit while telling lies about how good it was in the "old days." $25
Visit the website for Polaroid shots of winery and personnel. Yes, Polaroids. They still exist.