Bright medium straw color; peaches, citrus, gooseberry, whiff of grass on distinctive nose; white fruits, nectarine, citrus, lime on the palate.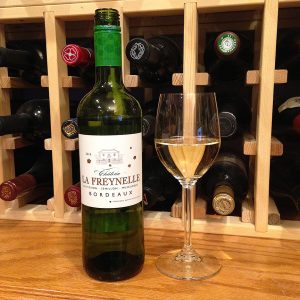 Dry/off dry with plenty of ripe fruit, nice acidity and minerality; finishes with some buttery elements from partial malolactic fermentation. Blend of 60% sauvignon blanc, 30% sémillon, 10% muscadelle. The nose has elements of artificiality-confected elements in the pop and pour, but that blows off with air and the wine happily becomes more sophisticated both on the nose and on the palate. This is much leaner style than a New Zealand sauv blanc; lighter and more refined.
The Barthe family has owned Château d'Arcole and Château La Freynelle since 1796, paying for it with money given to the family by Napoleon after Jean Barthe participated in a victory over an Austrian army. In 1991, Veronique Barthe became the owner at age 22; she was the first girl born in the Barthe family since the French Revolution more than two centuries ago (yes, the first female child in the family in more than 200 years), so she automatically is the first female winemaker and owner in the 228-year history of the château. The family tradition will continue with her three children involved in the winemaking alongside their parents.
The Barthe vineyards cover almost 200 acres in the heart of L'Entre-Deux-Mers in the communes of Targon, Faleyras, Daignac and Espiet. Veronique has steered the vineyards to sustainable agriculture.
Château La Freynelle Bordeaux Blanc 2015 presents lovely fruit, citrus, smooth and buttery with lively finish. Will pair very well with fish, also with pasta, chicken, pork. Superb Bordeaux blanc value. $11-13