Medium gold color; peach, apricot on delicately floral nose; peach, apricot, fresh fruit, green melon, red grapefruit on the palate.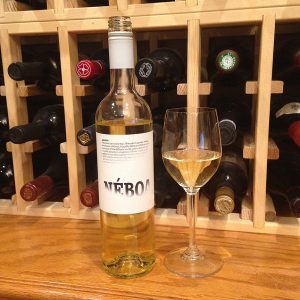 Dry with plenty of fruit; good minerality and acidity and the expected touch of saltiness you get from Albariño in northwestern Spain, near the Portuguese border and the Atlantic Ocean. Rich in the mouth, improves with air, nice lift in the mid-palate as the rich fruits assert themselves following the mineral and acidity in the initial attack. The hints of salt present on nice finish.
Because of their weather (40 to 100 inches of rain a year), Galicians—the people of northwest Spain—have more than 70 words to describe rain and fog. Néboa is a folklore word used to describe fogs that loom over hillsides. Néboa is a custom cuvee (blend) made for the distributor Valkyrie Selections by Bodegas Eidosela in the Condado do Tea subregion of Rías Baixas. Bodegas Eidosela is a group of 61 producers with parcels covering some 112 acres who started their own cellar in 20003. As is common in this area of northwest Spain and northern Portugal, vines are trained on pergolas six-to-seven feet high to avoid the humidity caused by the high rainfall and to help manage the canopy by allowing as much exposure to sunlight as possible. That also means grape harvesters must work from boxes or ladders.
Rías Baixas is one of the leading white wine producing regions in Spain and the only Spanish DO for white wine; albariño wine accounts for some 90% of the vines in Galacia. Rias Baixas is known for whites in similar way Rioja is famed for Spanish reds.
Albariño is a small, thick-skinned grape that resists fungal disease, important because of the heavy rainfall. The grape is low yielding and expensive to cultivate because of the pergola (parra) system for training vines. The Rias Baixas region hugs the border with northern Portugal. Across the border, the grape is called "alvarinho" and is the principal grape used in vinho verde wines. Spanish and Portuguese efforts are superb alternatives to sauvignon blanc, pairing with the same foods and offering similar profiles while still being different.
Bodegas Eidosela Néboa Albariño 2015 is a quality albariño that will go well with shellfish, fish, shrimp, crab cakes, spicy Asian cuisine and other foods where the acidity and saltiness will complement the fare. Very nice value, very nice wine. $15
Bodegas Eidosela website
Valkyrie Selections website