Very deep ruby color; blackberry, violets, dried herbs, forest floor on the nose; red cherry, blackberry, blackcurrant, some licorice and chocolate on the palate.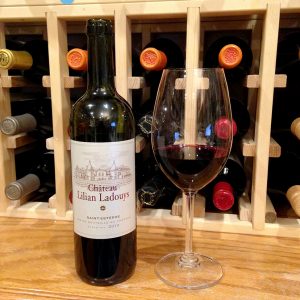 Dry; this is third tasting and review of this wine—others were two and three years ago. The seven, almost eight, years in bottle have scaled back the tannins, which were significantly noted in my 2015 review. The oak element is scaled back, too. I decanted as I recommended back then, and that plus age makes this much more approachable and elegant; it also retains an entertaining freshness that is very appealing and not something I noted in previous reviews. As expected from Saint-Estèphe, this remains a rich, juicy, powerful Bordeaux; 60% cabernet sauvignon, 40% merlot. The decanting recommendation remains even as this rounds into a lovely middle-age.
Saint-Estèphe is region in the Médoc subregion. It takes its name from the commune (smallest administrative division in France) of Saint-Estèphe and is the northernmost of the six communal appellations in Médoc. Médoc produces all the red wines in the 1855 Classification, with the exception of Château Haut-Brion from Graves. All these regions, château, and wine efforts represent pinnacle princes of the left-bank aristocracy.
Château Lilian Ladouys traces its history back to 1654. It has suffered ups and downs through the centuries; in the early 1900s, the estate had to sell off some vineyards to make ends meet; a plague of cork taint plagued the house at the turn of the twentieth century, but new owners and management seem to have turned that around. Several wine critics—notably Robert Parker— cite the 2010 effort as proof of a Château Lilian Ladouys renaissance.
Château Lilian Ladouys Saint-Estèphe 2010 continues to evolve and become more harmonious; less tannic, less oak, same vivid dark fruits and Saint-Estèphe power. Pair with rich red meats, grilled or roast lamb, roast beef, venison, hard cheeses such as Cheshire, red Leicester, French Mimolette. Also, a solid Bordeaux pairs well with bacon and eggs as a late breakfast or brunch. $34-40
Château Lilian Ladouys website