Pale straw color with hint of green; citrus, white flowers on the nose; lemon, pear, honeydew melon, white peach, almonds on the palate.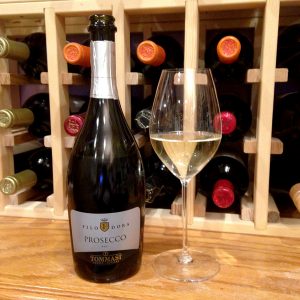 Brut; lively perlage; bright, easy to drink; almonds emerge on the finish. Solid, standard effort with good acidity and crispness.
Originally called Tenuta Filodora when Tommasi first released in 2012, the label now only says Filodora, and "filo" and "dora" are divided by a crest, so some may identify this as Tommasi Filo Dora Prosecco. "Tenuta" means "estate" in Italian, but that no longer appears on the label.
Tenuta Filodora consists of 37 acres located in the town of Miane, in the heart of the Prosecco DOCG area, about halfway between Valdobiaddene and Conegliano. A green hillside area only a few minutes from the town of Valdobbiadene, one of the most prestigious areas of the appellation. The average age of the glera vines is 35 years, and production is deliberately much lower than permitted (about 9,000 kg/ha vs. 13,000 kg/ha).
The estate gets its name from a short creek called Filodora that flows between Miane and the next small town, Follina. The Prosecco is vinified at a small cellar on the estate, spending 10 days in stainless steel tanks. It undergoes a second fermentation by the traditional Charmat method for 30 days in the Tommasi cellars in Valpolicella, also in stainless steel tanks. Because the Prosecco is bottled outside the Prosecco-producing region, it is officially listed as a DOC, but all of the grapes come from a DOCG-designated area.
The Tommasi family winery is one of the giants of Italian winemaking. Giacomo Tommasi founded the estate in 1902 in the village of Pedemonte, in the heart of the Valpolicella Classico region northwest of Verona, the heart of the Amarone appellation. The family now owns 234 acres in Valpolicella Classico, making them the largest land owners in the area. The family only works with grapes they grow. They are considered the standard bearer of the Amarone appellation and one of the most important producers in the Veneto, where these grapes were grown.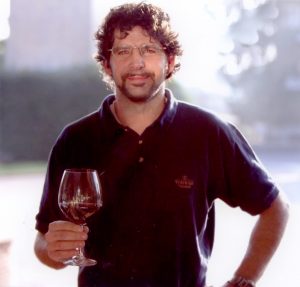 Tommasi is run by the fourth Tommasi generation, six siblings and cousins (a total of nine), who share different responsibilities. Giancarlo Tommasi is the principal winemaker; he studied winemaking at the University of Udine in Friuli. Giancario's uncle, Sergio Tommasi, manages the viticulture; he also champions planting at high density, resulting in lower yields and increased complexity and concentration.
Tommasi Filodora Prosecco DOC is lively, fresh, fun. Straightforward, standard Prosecco, it may not achieve soaring notes, but it also has no flaws. Dependable. This will work as an aperitif, which is how Prosecco typically is consumed. Because of its excellent acidity, it can pair with wide range of foods such as prosciutto-wrapped melon, light Asian dishes, mini quiches and frittata, foods made with creamy sauces, sushi, lighter seafood, mild cheeses such as fontina. $12-16