Deep ruby-purple color; raspberry, mocha, spice, blackberry, cedar, pipe tobacco, earth on the nose; strawberry jam, dark berries, smoke, blackcurrant, minerality, sweet oak, pinch of plum on the palate.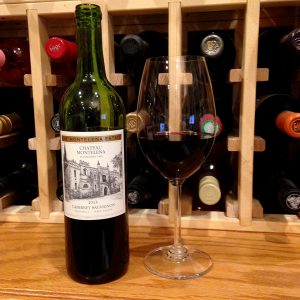 Dry; medium body; round, dense and delicious tannins and nice bright, balancing acidity; chewy and rich in the mouth. Great, delicious fruit through a satisfyingly long finish. Elegant, savory, seamless texture, marvelous complexity. Blend of 97% cabernet sauvignon, 1.5% cabernet franc, 1.5% petit verdot aged two years in French oak, 30% new. This is a vivid demonstration of the superb craftsmanship that has made Chateau Montelena a signature winery since the 1970s.
Typically I would decant, certainly after the pop-and-pour taste, but I found this so delicious as it came out of the bottle I did two glasses before decanting. Got better with each swirl and sip. Became more velvety smooth after the decant (in the amazing Menu Wine Breather), but decanting seemed also to blur the delicious layers. It made it an even smoother easy drinker, so smooth and effortlessly delicious you could imagine drinking a gallon of this, although at 14.1% ABV that would be ill-advised.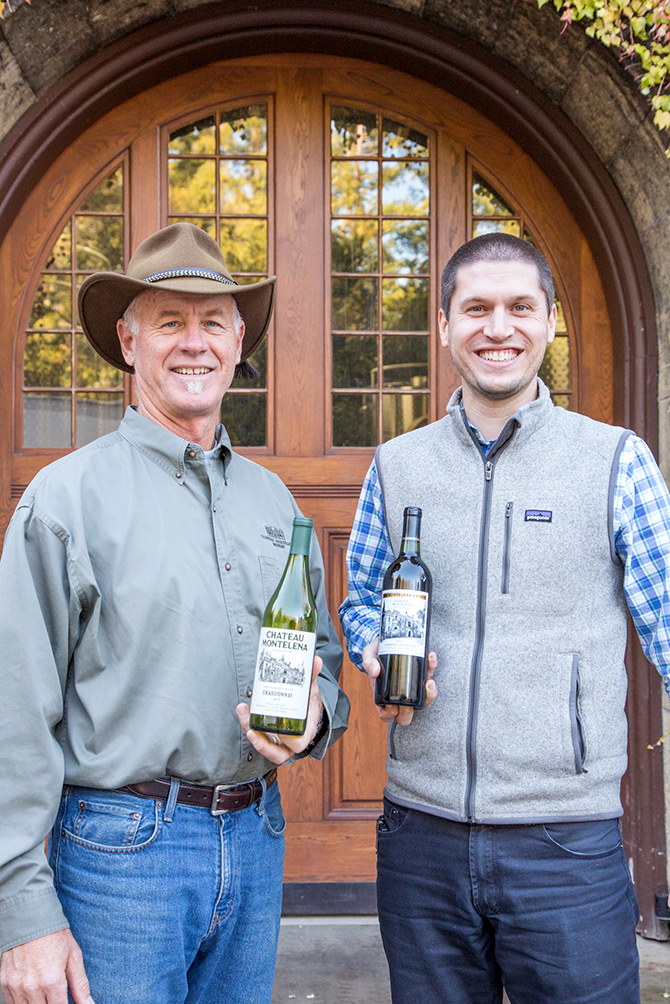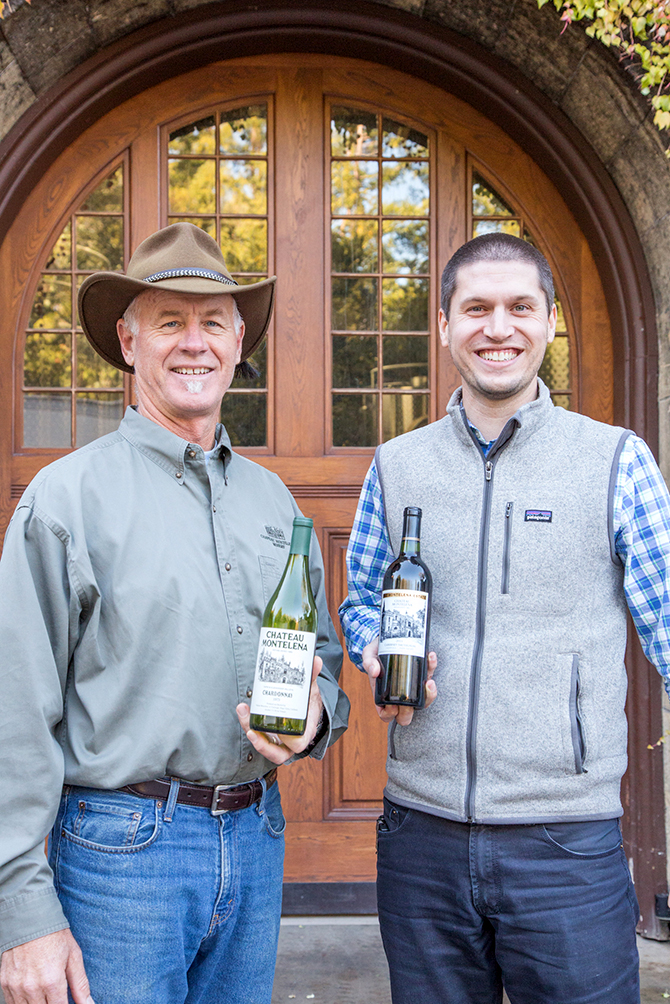 Matt Crafton is the relatively new winemaker at Chateau Montelena and made this effort. He is noted for his involvement from start to finish, from muddy boots in the vineyard in the beginning, as he told an interviewer: "The decisions you make in January and February, those you make in terms of how to train a canopy, how you deal with fruit set and canopy management, that is what sets you up to harvest. If you do it right and are engaged in those things, then there are no surprises in August or September."
Chateau Montelena Winery is a Napa icon. Its history began in 1882 when California tycoon Alfred L. Tubbs acquired 254 acres north of Calistoga and set out to bring forth a winery to rival Europe. He dug tunnel-caves into Mount Saint Helena, creating great aging facilities still in use today. He built his winery out of stone in front of the tunnels—that is the iconic image on bottles today. A.L. Tubbs Winery made great wines in the 1880s and 1890s.
As it did so egregiously to so many national treasurers, Prohibition stopped wine production (although not grape growing) until Tubbs' grandson, Chapin Tubbs, resumed wine making after the nation came to its senses and repealed Prohibition. Chapin also renamed the enterprise Chateau Montelena. Sadly, Tubbs's death in 1947, winemaking ceased and the vineyards fell into neglect.
Yort and Jeanie Frank purchased and began restoration of the facilities in 1958. They sold to Jim Barrett in the early 1970s, and Barrett hired a young winemaking team that included Miljenko "Mike" Grgich, who went on to make the chardonnay that won the historic "Judgment of Paris" in 1973. Chateau Montelena now was a player on the world stage—fulfilling Tubbs's vision—and a position it retains today.
Chateau Montelena Cabernet Sauvignon Calistoga The Montelena Estate 2013 is delicious as it is right now, but it also is very young for a wine of this quality. This can be put down and enjoyed into the 2030s and will only improve. Wonderfully delicious, precisely delineated fruits, but this absolutely not a California fruit bomb. It is a stunning exemplar of how great fruit done well creates a stunning wine adventure. Pairing: you could go low with this by pairing with a burger with blue cheese; but you also can do rosemary braised lamb shanks or lamb tagine; beef stew; filet mignon; short ribs braised with port wine, mushrooms, and tomatoes; simple meatballs, add spaghetti if you wish; roast duck with pecan purée; venison; barbecued lamb ribs; beef tenderloin; quality brisket or just about any rich red meat; or enjoy it solo with neutral wine crackers and cubes of cheese. This is so good, you can do just about anything. $125-160