Deep ruby color; blackberry, cocoa, spice on the nose; raspberry, strawberry, black cherry, mint on the palate.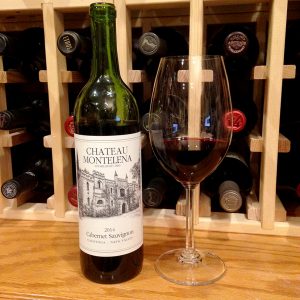 Dry, medium body, nicely relaxed tannin; nicely balanced oak (16 months in French and Eastern European oak, 27% new). Very, very smooth; very, very delicious easy drinker with significantly less redcurrant bite and cherry tartness than the previous vintage, so much so that I decided not to decant after pop-and-pour tasting. I urged decanting with the last vintage. Bordeaux blend of 86% cabernet sauvignon, 13% merlot, 1% cabernet franc.Wonderfully silky and subtle wine. Mostly, delicious and smooth.
The Calistoga Napa Valley label is Chateau Montelena's entry-level cab; you will need to bump up the limit on your credit card to experience the more powerful, complex, and serious estate bottles—but entry-level Chateau Montelena is wine well worth a whirl and certainly not one you can buy with the small change in your pocket. As was the last vintage, 2014 thankfully is not an over-oaked, over-ripe Napa cherry bomb. This is historic winery consistently making serious and seriously delicious wines that do not have to wear a muscle shirt or sport a radical haircut to be distinctive and strive to stand out. It has stood out for decades by being a refined, decorous expression of Napa's world-class quality. This vintage emphatically maintains that tradition.
Chateau Montelena is Napa icon. Its history begins in 1882 when California tycoon Alfred L. Tubbs acquired 254 acres north of Calistoga and set out to bring forth a winery to rival Europe. He dug tunnel-caves into Mount Saint Helena, creating great aging facilities still used today. He built his winery in front of the tunnels out of stone—that is the iconic image on bottles today. A.L. Tubbs Winery made great wines in the 1880s and 1890s.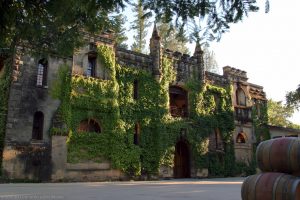 Prohibition, as egregiously it did to so many national treasurers, stopped Chateau Montelena wine production (although not grape growing) until Tubbs' grandson, Chapin Tubbs, resumed wine making after repeal. Chapin also renamed the enterprise Chateau Montelena, but after his death in 1947, winemaking ceased and the vineyards fell into neglect.
Yort and Jeanie Frank purchased and began restoration of the facilities in 1958. They sold to Jim Barrett in the early 1970s, and Barrett hired a young winemaking team that included Miljenko "Mike" Grgich, who went on to make the chardonnay that won the historic "Judgment of Paris" in 1973 and solidified his place as iconic Napa and world-class winemaker. Chateau Montelena was a player on the world stage—fulfilling Tubbs' vision—a position it retains today.
Chateau Montelena Calistoga Napa Valley Cabernet Sauvignon 2014 is superbly delicious Bordeaux blend. The subtleness is enchanting. This may not play well with rich red meats, but who cares? Drink this before the big red cow meat hits the grill, when the atmosphere is more refined, or pair with more sophisticated fare. This essentially demands you enjoy it for what it is, but if you pair with food: lighter red meats, beef tenderloin, Dorper lamb, pork loin, mushroom pizza, mushroom stroganoff, braised short ribs, bacon cheeseburger. $50-58