Deep ruby color; raspberry, plum, green peppercorn on the nose; raspberry, blueberry, red cherry, black plum, chocolate, green bell pepper on the palate.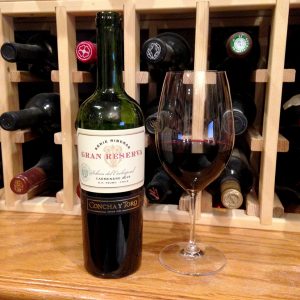 Dry; dense, vivid, tightly focused flavors; medium body with polished tannins; somewhat harsh and disjointed on pop-and-pour, mellows out with air and the herbaceous notes fade; definitely decant. Made mostly with carménère grapes, but there is splash of cabernet sauvignon. Vineyards along the river in the Peumo region of the Cachapoal Valley in Chile—almost all the world's carmémère comes from Chile.
Concha y Toro is the leading winery in Chile, and Serie Riberas is their flagship line of wine. Gran Reserva Serie Riberas ("Riverbank Series") wines are single-vineyard efforts grown in the Colchagua Valley, close to one of Chile's four major rivers formed by meltwater from snow packs in the nearby Andes. The rivers created mineral-rich basins and valleys and give a passageway for fresh, cool Pacific Ocean breezes to reach the vineyards, engendering slow and even maturation of grapes, as well as conservation of water. Same time, the vineyards have poor soil, which engenders struggle by the vines and, thus, concentration of flavor. The vines fought to give you these grapes, and their struggle reflects nicely in the glass.
Concha y Toro Gran Reserva Serie Riberas Carménère (Peumo) 2015 has vivid fruit flavors; rustic on the pop-and-pour, greatly benefits from decanting. Carménère is Chile's signature grape; it resembles its likely cousin merlot, but takes longer to ripen, has slightly more tannin and assertive fruit; not as smooth or mellow as merlot; best drunk young. Pair with rich red meats, dishes with sweet and sour sauces, duck, venison and other wild game; carménère has pushy flavors, so avoid lighter fare as this will overwhelm such dishes. $16-19