Medium straw-yellow color; marvelously complex nose of lemon, grapefruit, green apple, peach, apricot, ginger; grapefruit, Meyer lemon, cantaloupe, minerality on the palate.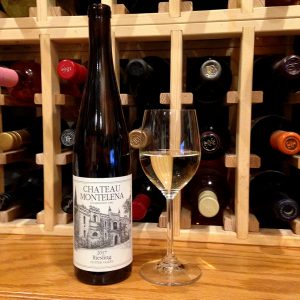 Dry but the expressive fruitiness from ripe vintage gives the pleasant illusion of sweetness; nicely crisp and tart, too. Medium body is smooth with sheen of pleasing oiliness/viscosity that make it fun to swirl in your mouth and swallow.
Matt Crafton is the relatively new winemaker at Chateau Montelena who made this effort. He is noted for his involvement from start to finish, from muddy boots in the vineyard in the beginning, as he told an interviewer: "The decisions you make in January and February, those you make in terms of how to train a canopy, how you deal with fruit set and canopy management, that is what sets you up to harvest. If you do it right and are engaged in those things, then there are no surprises in August or September."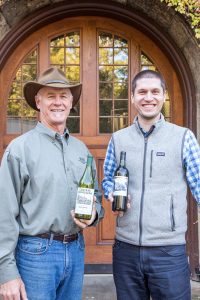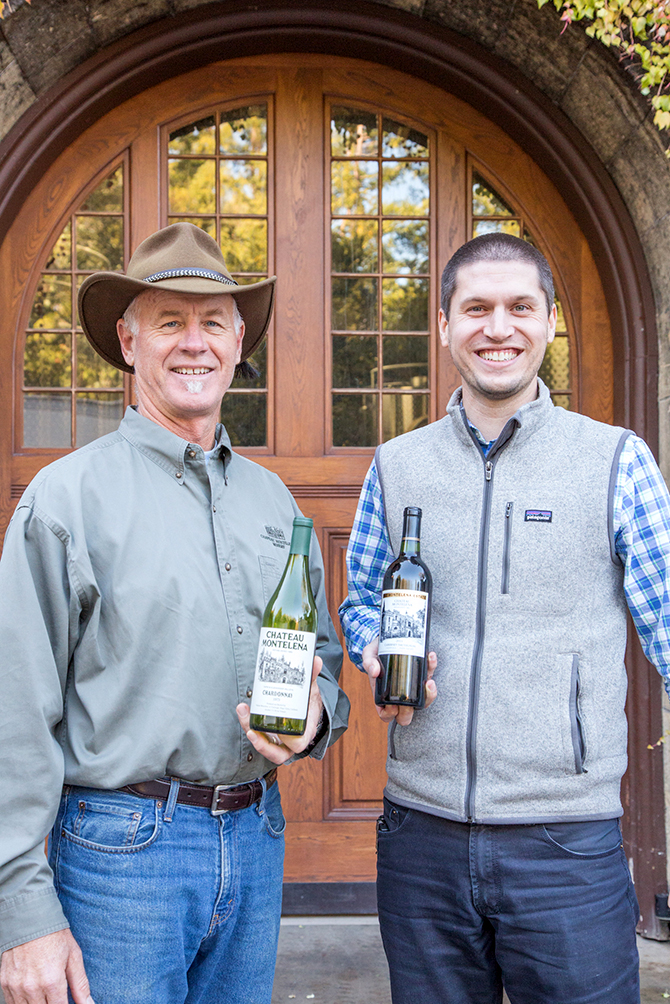 Chateau Montelena Winery is a Napa icon. Its history began in 1882 when California tycoon Alfred L. Tubbs acquired 254 acres north of Calistoga and set out to bring forth a winery to rival Europe. He dug tunnel-caves into Mount Saint Helena, creating great aging facilities still in use today. He built his winery out of stone in front of the tunnels—that is the iconic image on bottles. A.L. Tubbs Winery made great wines in the 1880s and 1890s.
As it did so egregiously to too many national treasurers, Prohibition stopped wine production (although not grape growing) until Tubbs' grandson, Chapin Tubbs, resumed wine making after the nation came to its senses and repealed the idiotic law. Chapin also renamed the enterprise Chateau Montelena. Sadly, Tubbs's death in 1947, winemaking ceased and the vineyards fell into neglect.
Yort and Jeanie Frank purchased and began restoration of the facilities in 1958. They sold to Jim Barrett, a real estate attorney, in the early 1970s, and Barrett hired a young winemaking team that included Miljenko "Mike" Grgich, who went on to make the chardonnay that won the historic "Judgment of Paris" in 1973. In addition to Jim Barrett's contribution as winemaker, his son, Bo Barrett, participated and now is the owner of the historic winery—the winery remains 100% family owned. With the Judgement of Paris, Chateau Montelena became a player on the world stage—fulfilling Tubbs's vision. It retains that position today as "America's first growth winery". Bo Barret—Jim's son—and Matt Crafton are the winemakers today.
Chateau Montelena Potter Valley Riesling 2017 has impressive balance and finesse with charming illusion of sweetness thanks to a very ripe vintage. The website explains: "For this vintage, we picked the small, Potter Valley vineyard block in two passes, 72 hours apart, to ensure the vibrant acidity, critical to the longevity of this wine, and to capture the rich, lush character of the growing season." Dry riesling pairs very well with almost all Asian foods—Thai, Chinese, Japanese, Vietnamese, Indian; barbecue ribs and barbecue chicken; corned beef; crab; salami; chicken or seafood enchiladas; ham; pulled pork; pork and poultry sausages; salad; seafood, especially lobster, prawns, scallops; veal. $25-30
Google "Bo Barret" for selection of entertaining videos about the winery and owner.