Pale gold color; apple, citrus, pineapple on the nose; citrus, lemon, yellow apple, melon, mango, pear, hint of honey on the palate.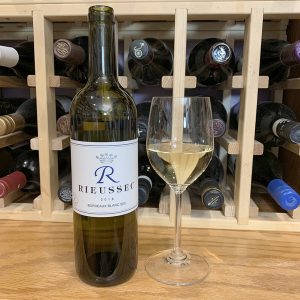 Dry; tangy, crisp acidity; light, fruity, refreshing. Balanced blend of sauvignon blanc and sémillon, roughly 50-50 each vintage. This is classic formula for white Bordeaux. Do not expect a cutting sauv blanc. The sémillon counters the tart acidity of the sauv blanc to produce a flavor unique to white Bordeaux.
Château Rieussec is a 1st classified growth in Sauternes. This wine is balanced, zesty, attractive. According to the website, "20% of fermentation takes place in barrels. This technique enhances the wine's potential to age, while preserving its freshness and the natural fruitiness from the grapes." 12.5% ABV
The château was founded by Carmelite monks, then confiscated during the French Revolution and auctioned to the Marheilhac family in 1790. It earned its rank as a premier cru in Sauternes during the 1855 classification. Château Lafite Rothschild purchased the estate in 1984 and expanded the vineyards to some 220 acres.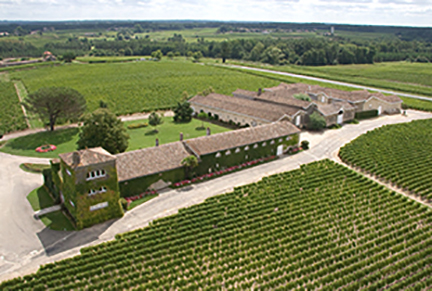 The websites notes: "A new cellar was built in 1989 to extend the ageing period in barrels. The quantities of the Grand Vin that were produced were much reduced in the 1990's due to more meticulous selection, to the point that none at all was produced in 1993 (this was also the case in 1977 and again in 2012). In 2000, the renovation of the maturing cellar, the construction of a fermentation room, and the modernisation of the reception and pressing areas also represented strides forward in a quality policy that was launched  in 1985."
Château Lafite Rothschild preserves the tradition that a single vine should produced a single bottle of wine. Albert Vuillier took control over the winery in 1971, then entered into the agreement with Château Lafite Rothschild in 1984. While Sauternes are notable as among the world's premier sweet wines, when blended with sauvignon blanc—notable as among the world's sharpest, most acidic white wines—the result is the distinctive and unique Bordeaux blanc wines. If you have not tasted such, this would be nice place to start.
Château Rieussec "R" Bordeaux Blanc Sec 2018 is classic Bordeaux blanc wine. It is not delicious wine, it is serious wine. It is excellent food wine, particularly for those with sophisticated tastes. Pair with Asian dishes; spicy fried chicken; mixed vegetable dishes; arugula salad with lemon and parmesan; angel hair pasta with basil pesto; white fish such as cod or halibut. $29-32