Medium yellow color; citrus, lemongrass on the nose; lemon-lime, white peach, grapefruit, melon, minerals on the palate.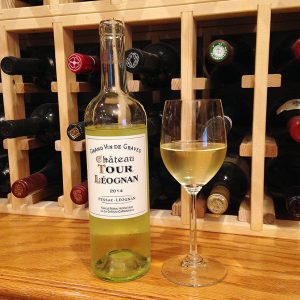 Dry; crisp with good acidity, minerality, pinch of salt; 70% sauvignon blanc, 30% sémillon. Sauv blanc delivers expected citrus and cutting acidity, while sémillon contributes fullness in the mouth, fruit sweetness with a taste of honey and pinch of saltiness. Cold clarification is followed by nine months in oak (25% new) with stirring on the lees that contributes to admirable complexity and just a hint of oak.
Château Tour Léognan is the second label of Château Carbonnieux, an important producer in Bordeaux. Marc Perrin initiated a re-planting program when he acquired the estate in 1956. Tour Léognan is produced from vines 15 years old or younger in order to deliver freshness and vivid fruits. Each year, 7.5 acres are pulled and replanted two to three years later to maintain the fresh, young vine character of the wines.
Château Carbonnieux is located near the Garonne on a rise in the land 10 miles south of Bordeaux; soils are clay-limestone and deep gravel (this is Grand Vin de Graves), contributing to the minerality clearly tasted in this effort.
The vineyard dates from the beginning of the 13th century, with Ramon Carbonnieu the owner in 1234. Monks from the Benedictine Sainte-Croix abbey owned and operated the vineyards according to a deed dated April 2, 1292. The vineyard prospered until the Hundred Years War (1337-1453), then fell into a long period of neglect.
The monks sold Carbonnieux land to Jean de Ferron in 1519; under his direction the vineyard went from being a fortified farm to a noble house, reaching its peak during the reign of Louis XIV (1643-1715). By 1740, however, the Ferrons were in debt and sold the estate back to the monks of the Sainte-Croix abbey. The monks pushed the wine into the elite ranks of Bordeaux, with their whites regarded as the top wines of the region.
In 1786, future U.S. president Thomas Jefferson visited the vineyards and winery. He not only enjoyed the wine, he planted a pecan tree that still stands in the inner courtyard of the estate. The French Revolution, however, brought confiscation, then selling of the estate. French Revolution hero Elie de Bouchereau took control. All went well until the phylloxera attack in 1871, forcing the Bouchereau family to sell in 1878. The estate staggered among various owners and two world wars until the Marc Perrin purchase in 1956.
Perrin rebuilt the vineyards and the Carbonnieux reputation. Today, his children Eric, Christine, and Philibert carry on a fine wine tradition stretching back almost 800 years.
Château Tour Léognan Pessac-Léognan 2014 has the crisp sharpness and acidity you want from a Bordeaux blanc blend. This is better enjoyed as a food wine rather than a solo sipper, which applies to most sauv blancs. The hint of salt makes this ideal pairing with shellfish, shrimp, and lighter fish and white meat, but this also will go very well with vegetarian dishes. $19-22