Deep copper color; peach, cherry, strawberry, tangerine on the nose; white peach, some pineapple, raspberry, maraschino cherry, tangerine on the palate.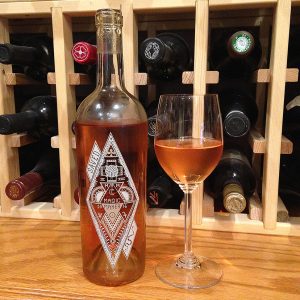 Blend of 90% grenache, 5% syrah, 5% pinot noir; very dry; medium body; good acidity (3.31 pH); crisp, refreshing with some minerality from the good acidity. Food friendly, excellent pair with salmon, also with garden salad with grapefruit and parmesan cheese elements.
Rosé is versatile food wine, and this securely fits that mold. You also could drink it comfortably on the patio well-chilled as you amp up for a summer backyard party with convivial friends. Smooth, fruity, not a simperingly sweet rosé by any stretch, which counts a lot in the rosé world.
Saved Wines is a collaborative effort of second-generation California winemaker Clay Brock and Brooklyn artist/tattoo artist Scott Campbell (husband to actress Lake Bell, who has her own connections to the wine industry). The "Saved" name comes from Campbell's Saved tattoo studio in Brooklyn (his inks appear on Johnny Depp and Kanye West to name-drop a few client names). Campbell designs the labels; he says he makes the wines look pretty and Brock makes the wines taste good.
Saved Magic Maker Rosé 2016 is tasty, versatile rosé with iconic bottle that will please friends who judge wine by the cover, but it also will please those who like nice fruit in a well-made rosé. $13-16