Medium copper-salmon color; grapefruit, strawberry, rose petals on the nose; grapefruit, pomegranate, strawberry, raspberry, tart cherry on the palate.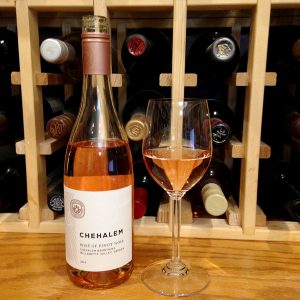 Dry; full body with excellent acidity (3.16 pH). Juicy with soft, velvety mouthfeel. Shows smoothness and finesse; especially from mid-palate through satisfyingly long finish; 13.2% ABV. Grapes for this effort come from the Corral Creek vineyard, 30 minutes from downtown Portland. The vineyard is one of the most-photographed vineyards in Oregon. It houses the solar installation, the raptor perches, and eco-zone set-asides.
The vineyards and winery were LIVE certified in 2008. LIVE certification acknowledges socially responsible winegrowing and winemaking in the Pacific Northwest. Chehelem earned B Corp Certification in 2018—B Corp determines companies ensure they meet the highest standards of social and environmental performance.
The vineyard/winery started in 1980 when the Peterson-Nedrys family purchased the property and planted pinot noir and chardonnay grapes. The Howieson family planted the first grapes in the Corral Creek area in 1983. In 1990, Chehalem harvested the first grapes at Ridgecrest. In 1993, Bill Stoller purchased his family's estate in Dayton and joined Chelalem.
Bill Stoller then embarked on a noteworthy career in the region, gaining complete control of Chelalem in 2018 by purchasing Henry Peterson-Nedry's interest in Chehalem. This followed a 24-year partnership with Peterson-Nedry. Stoller comments on the website: "Harry Peterson-Nedry has been a mentor to me," said Stoller. "When Harry first asked me to be an investor, I saw an opportunity to help fund a friend's dream and the chance to be a part of something with the potential to be iconic. As we enter this next chapter, I am honored to shepherd CHEHALEM's legacy."
"No one understands more how special the CHEHALEM brand is, how much passion and rigorous work it has taken, how much collaboration with other Willamette Valley pioneering wineries has gone on, than Bill," said Peterson-Nedry. "I take comfort knowing he will respect its heritage in a way that no one else could.".
Stoller is the founder and CEO of The Stoller Group, also the president and vice-chairman of Express Employment Professionals, and founder and CEO at Xenium HR & Employer Services. A native Oregonian, Stoller holds a Bachelor's Degree in Business and Economics from Pacific University, and an MBA from Portland State University.
Chehalem Rosé of Pinot Noir, Chehalem Mountains 2018 easily works as an aperitif or solo sipping with friends playing mah-jongg or sharing notes at book club gathering. Rosé is great pairing wine in general, and this will work on wide range of fare—fish in general, fried or grilled; crab; shrimp; lobster; quiche; grilled chicken; veggie pizza; Greek dishes. $25-28
Nice videos tell Chehalem story (scroll to the bottom of the page)