Medium ruby color; raspberry, cherry, vanilla, oak on the nose; raspberry, cherry, plum, redcurrant, licorice, boysenberry, vanilla on the palate.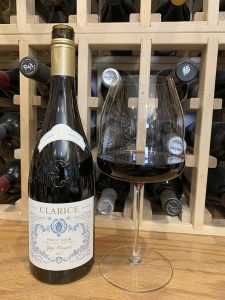 Dry; well behaved but noticeable, dusty tannins, especially on mid-palate. Still, I refrained from decanting to preserve the pinot noir punch. Let it evolve in the glass and be rewarded. This is significant wine from Siduri founder Adam Lee. Three-quarters of the grapes were whole-cluster fermented, leading to bright fruit and some herbal notes. Balancing acidity. 3.64 pH.
Excellent concentration of fruit, especially in the mid-palate where black fruits take over the tasting tango. The significant whole cluster fermentation delivers green elements not typically associated with pinot noir, which I presume is the point of this exercise, but time in oak—11 months in 73% new French—balance this out. Adam Lee knows what he is doing, and in this effort he demonstrates that skill set. 14.1% ABV
Adam Lee tells his story on the website: "My name is Adam Lee and I am the founder of Clarice Wine Company. I began working with wine in 1989 at a retail store in Austin, Texas. At the time, I also dabbled in restaurant wine sales, and briefly pulled a bag as a wine distributor sales rep. A few years later, I began working as the Wine Buyer at Neiman Marcus in Dallas, and there I met my wife, Dianna Novy. In 1993, we moved to California and, while working in direct sales at various wineries, we started Siduri Wines in 1994. Siduri Wines quickly became known as one of California's premier Pinot Noir producers and grew from 107 cases in 1994 to 25,000 cases in 2015. During that time, our family grew as well, with the addition of three children; Christian, Amber and Truett. In January of 2015, we sold Siduri Wines to Jackson Family Winery. Since then, Dianna has gone on to launch her own sparkling wine brand, Flaunt (Link to Flaunt Wine Company), while I stayed on as winemaker for Siduri. In addition to my role at Siduri Wines, I have now introduced Clarice Wine Company as my own small, heartfelt project."
The Santa Lucia Highlands are a jewel of California's Central Coast. The AVA begins 13 miles south of Monterey and is directly east of Big Sur. Deep, cold Pacific currents from Monterey Bay chill the vineyards at night and deliver thick, wet morning fogs. Things warm up during the day, providing the diurnal shift found in so many premier wine regions. The vineyards also are cooled by the winds off the Pacific Ocean.
On a sad note, 2020 was not kind to Clarice. The website notes: "With the fires of 2020, we lost all the usual Clarice grapes to smoke. Both the Garys' Vineyard and Rosella's Vineyard Pinot Noirs were a complete loss for Clarice. As such the 2021 season will be fulfilled with a different offering of wines priced at a discounted rate." That, of course, does not affect this vintage, but it does signal you to get some now if you can. Clarice was not the only winery, business, or family to endure hard times in 2020. May we all recover in 2021.
Pinot noir and chardonnay dominate the Santa Lucia Highlands AVA. Out of 6,390 acres of vines, 3,537 are planted in pinot noir and 2,234 in chardonnay. The AVA maintains an excellent website, link below.
Clarice Gary's Vineyard Pinot Noir, Santa Lucia Highlands 2018 is splendid pinot pour from a master vintner. The Santa Lucia Highlands are an elite production region in California and this effort reflects what talent and terroir can deliver. Subtle and sensuous, a delight in the mouth. Pinot noir is notoriously difficult, but when it is done well it is wondrous miracle. This is example. Enjoy this all by itself or with wine crackers, maybe charcuterie. Certainly with erudite, knowledgable company. Or those who aspire to earn those adjectives. Also with salmon and other fatty fish; turkey and baked or roasted poultry; slow-cook lamb; hard cheeses. $85-90
Santa Lucia Highlands website; excellent video and information