Deep ruby color; black cherry, blackberry, blueberry on the nose; blackberry, plum, black fruits, cherry, redcurrant, licorice, oak, vanilla on the palate.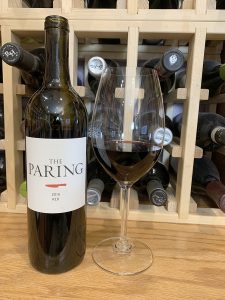 Dry; relaxed tannin and acidity. Bordeaux blend of 50% cabernet sauvignon, 20% merlot, 20% cabernet franc, 10% petit verdot. Aged 22 months in French oak, 55% new and 45% neutral. Medium-full body. Sweet and savory interplay. Lots of flavors compete for your attention, which has its plusses and minuses, but mostly plusses. Concentrated, smooth, accommodating. Redcurrant particularly kicks in on relatively short finish. 14.5% ABV
It is easy to confuse the name of this wine. It is not "pairing" as in "what food goes with this." It is "paring" as in paring knife, the small knife you use to peel fruits and vegetables. If you study the label you get it. The Paring is a second label from the Jonata winery. It is owned by Stan Kroenke who also owns Screaming Eagle, one of the most expensive cult wines in California. Oh, and Kroenke also owns the LA Rams, the Denver Nuggets, Arsenal (the English football team), and a host of other sports franchises. He is a multi-billionaire in his own right and married to Ann Walton, a Walmart heiress.
Matt Dees is the winemaker. The Paring website notes: "Armed with a degree in Soil Science from the University of Vermont and vintages at Staglin in Napa, California and Craggy Range in Hawkes Bay, New Zealand, Matt has an intrinsic feel for wine, from dirt to glass. Curious and experimental by nature, Matt's approach to winemaking is grounded in the vineyard first and foremost: attuned to the vines, the weather, the soil, Matt seems almost to be a part of the vineyard itself.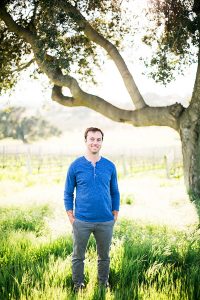 "Matt comes to wine with an untethered philosophy, a mindset embodied in The Paring. At the core of these wines one finds a wide-ranging exploration of style, vineyards and blending. When he's not working with The Paring, Matt can be found making the wines for its big sister wineries—Jonata and The Hilt."
The Paring Red, California 2016 is a roundelay of dark fruits that searches for focus but delivers round, palate pleasing, ripe fruits. Fun easy drinker rather than a profound wine with depth and complexity. Good QPR for California Bordeaux blend. Pair with grilled red meats; roast leg of lamb; wild game—venison steak, deer sausage; comfort food—meatloaf, burgers and sliders, pizza, spaghetti and meatballs; macaroni and cheese. $21-25