Deep ruby color; cherry, plum, green olive on the nose; red plum, black cherry, red currant, sour cherry, chocolate, olives, oak on the palate.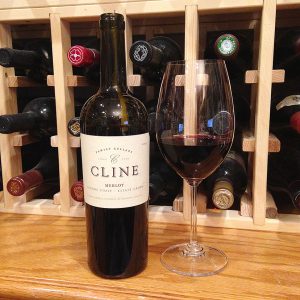 Dry; big fruit with some balancing acidity (3.78 pH), easy going but noticeable tannins. Smooth, easy drinker with a touch of attitude. The red currant tang kicks in on mid-palate and joins with sour cherry on the finish. This has enough bite that some will mistake it for a cab; those who like their wine/merlot with some character and swagger will enjoy. Those more into velvety, silky, soft merlot may struggle, but not enough not to sip and enjoy, especially paired with food.
This is built to do very well with savory meat dishes. Excellent alternative to cab for those who like cab. Drinks like a big, bold right bank Bordeaux. Significantly benefits from decanting, as my second glass—after decanting—dramatically showed. Long-time readers know my first tasting is pop-and-pour (well, with some swirling time in a large glass), while my typical second taste is after decanting. In red wines, I almost always find decanting improves the wine. In this effort, merlot's softness emerges and the bite on the finish is diminished. Decant!
Fred Cline marches to different drummer. While some of his generation frolicked in the 60s, Fred learned the ways of soil and farming from Valeriano Jacuzzi—Fred Cline's maternal grandfather and one of seven Jacuzzi brothers who were pioneers in American aviation and water pumps. When you turn on a Jacuzzi in your hot tub you are enjoying his family's work. Eschewing aircraft and whirlpool devices, Fred and his wife, Nancy, decided to go into the wine business in the 1980s.
Cline's first mission was restoring old vines to grow Rhone-style wine vines. Later came attention to ancient—some more than a century old—zinfandel. It has worked, and Cline is a leader in responsible land management and historic preservation. The Clines own and have restored the Dillon Beach Resort, the Mizpah Hotel in Tonopah, NV, and the Villa Laura in Tuscany, Italy. The California Missions Museum on the Cline Cellars grounds houses scale models of all 21 California Spanish Missions crafted in the 1930s for the San Francisco World's Fair.
The Clines also operate Green String Farm, a 150-acre working farm that produces a variety of fruits and vegetables grown on soil that is tended and nurtured without toxic chemicals. Produce from Green String is used by such culinary luminaries as Alice Waters of Chez Pannise.
Jacuzzi Family Vineyards specializes in Italian varietals; it is located across the street from Cline Cellars and is modeled on the Jacuzzi family home in northern Italy. The Olive Press is one of the most recognized artisan olive oil and balsamic makers in the U.S. Tonopah Brewing Company is the only brewery in central Nevada serving American ales, IPAs, pilsners, hefeweizen, and Irish red ale, all brewed in-house.
Cline Cellars Sonoma Coast Estate Merlot 2013 is on the assertive, more oak, more prominent tannins side of the merlot spectrum with vivid dark fruits. Greatly benefits from decanting. Pairs with lamb, pork ravioli and pork loin, ratatouille, roast chicken, pizza, tomato-based Italian dishes, crock pot stews, grilled flat iron steak with blue cheese butter, meatloaf, and other red-meat comfort foods. $16-17