Medium gold color; lemon, peach, flowers on the nose; lemon, citrus, green melon, apple, hint of honey on the palate.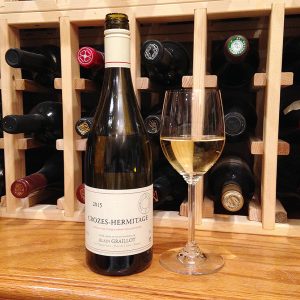 Dry; great fruitiness balanced by nice acidity and abetted by subtle hints of oak; 50% fermented in second-use barrels, 50% in stainless steel. No malolactic fermentation, which contributes to its attractive freshness and acidity. Blend of 80% marsanne, 20% roussanne, a classic marsanne blend from northern Rhône with depth and rich texture. Organically farmed.
Hermitage is the pinnacle in the northern Rhône, but Crozes-Hermitage is the rising star thanks to makers such as Alain Graillot and his son, Maxime Graillot (whose vineyard/winery is adjacent to dad's). Alain is better known for complex, superior syrah, but this blanc shows another dimension of his repertoire. Demand for Alain Graillot wine exceeds supply, so stocks must be allocated—still, Graillot choses to broaden his base by allocating half of his production to export markets. The other half goes to private French clients and some of the best restaurants in France: Pic, Troisgrow, Loiseah, Crocodile, Georges Blanc, and select others. All of which means if you find a Domaine Alain Graillot in your wine store, grab it. Red or white.
Alain Graillot is now famous and honored in France, a position he extraordinarily earned in just three decades. Furthermore, he did it in Crozes-Hermitage, once considered a backwater of the northern Rhône. He proved the flat, stone-laden land near the Isère River confluence with the Rhône River could make rich, distinctive wines, something generations before him failed to do—or did not have the skill, courage, and foresight to try.
Domaine Alain Graillot Crozes-Hermitage Blanc 2015 is tasty, serious white and fun-to-drink at the same time; classic marsanne blend from northern Rhône. Good depth of fruit flavors, nice finish with lemon showing to the end, but rich fruit, too. Pair with seafood, shellfish, especially richer flavored fare—lobster, crab, mussels, clams, seabass. Works with chicken, pork dishes, lamb, spicy flavors and Asian cuisine. It also is delicious sipped solo or with cheese and simple finger food. $29-35
Domaine Alain Graillot does not have a website.