Inky dark ruby color; vivid cherry, vanilla, red fruits, licorice (a signature of Priorat), chocolate, wet pavement on the nose; superb cherry, red fruit, cola, vanilla, plum on the palate.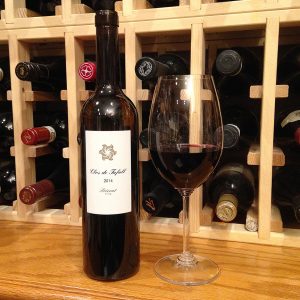 Smooth, delicious, easy drinker; supple, velvety-but-firm tannin and balancing bright balsamic acidity. Blend of 55% grenacha, 35% carignan (both varieties plucked from vines 80-plus years old), 10% cabernet sauvignon; fermented in stainless steel, then spent a year in French oak. Juicy, plush, rich, a delight to drink that evolves elegantly from initial attack through a warm fuzzy finish.
Bodegas Clos Berenguer is the maker. The winery sits above an old manganese mine that has been shut down since the Spanish civil war in the 1930s. The winery converted some of the mine tunnels to store barrels for aging. With something like 18 acres of very old vines in the vineyard, Berenguer focuses on high quality reserve wines. Much of the vineyard soil is red and black slate that gives Priorat its distinctive flavors, the remainder of the soil is calcareous; vines are planted east to west.
Priorat is a Catalan Denominació d'Origen Qualificada (DOQ) produced in Priorat county, a remote, rocky area southwest of Catalonia. It is about 120 miles south of Barcelona and 50 miles inland from the Mediterranean. Robert Parker Jr. put the region on the map in the late 1990s when he raved about its delicious grenache-carignan creations. The slate soil forces vines to work extra hard to survive, thus producing wines with concentration, ripeness, and minerality. This effort shows that.
Priorat is one of only two Spanish wine regions to qualify as DOCA, the highest qualification level in Spain; Rioja is the other. Today, the wines of Priorat are among the finest and most expensive wines of Spain. The DOC covers 11 municipalities, includes more than 560 vineyards and 100 wineries. It has total area of about 76 square miles (48,640 acres), with about 4,700 acres of vineyards. Priorate is the Catalan word for the region; the Castilian equivalent is Priorato. The word "clos" in the wine's name means "protected" or "walled." Bodegas Clos Berenguer sells its wine through the Bertha Group, a combination of quality-focused wineries throughout Spain.
Clos de Tafall Priorat 2014 is a persistently delicious effort at a stunningly nice price for Priorat; grab some and enjoy how superb Priorat wines taste. You can easily spend twice, three times and more if you wish after you taste this, which rivals the even bigger stars. Another Spanish wine wonder. $20-25
Bodegas Clos Berenguer website
Photo: Bodegas Clos Berenguer storage in manganese mine