Pale copper color; strawberry, tangerine, flowers on delicate nose; strawberry, cantaloupe, raspberry, red cherry, grapefruit, white pepper, minerality on the palate.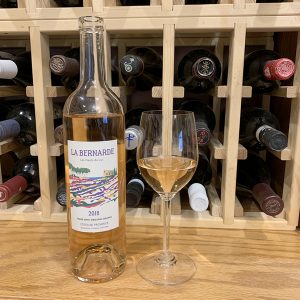 Dry; smooth, soft, rich texture. Light-medium bod; still wine. Blend of 40% cinsault, 40% grenache; 20% rolle; certified organic. Fermented and aged in stainless steel. Refreshing acidity; delightfully lingering, elegant and refined red-berry finish; 12.5% ABV
La Bernarde is an historic property in the village of Luc in the Côtes de Provence. The property has been restored by the adjacent Commanderie de Peyrassol and the Austruy family. Organic farming, high altitude, cool microclimate sets La Bernarde apart from hot flatlands of St. Tropez and the rest of Provence. The same winemaking team works both La Bernarde and Peyrassol. The property, at nearly 1,000 feet above sea level, sees snow much of the winter, allowing for a longer and more balanced ripening of grapes. Harvests start up to two weeks later there than in the lower-lying sites.
Commanderie de Peyrassol was founded around 1204. There is a parchment record of the 1256 harvest in the Marseille archives. The Knights Templar were the first owners. The Order of the Knights of Malta replaced them in 1311. The Malta knights controlled the vineyards until 1789 and the French Revolution.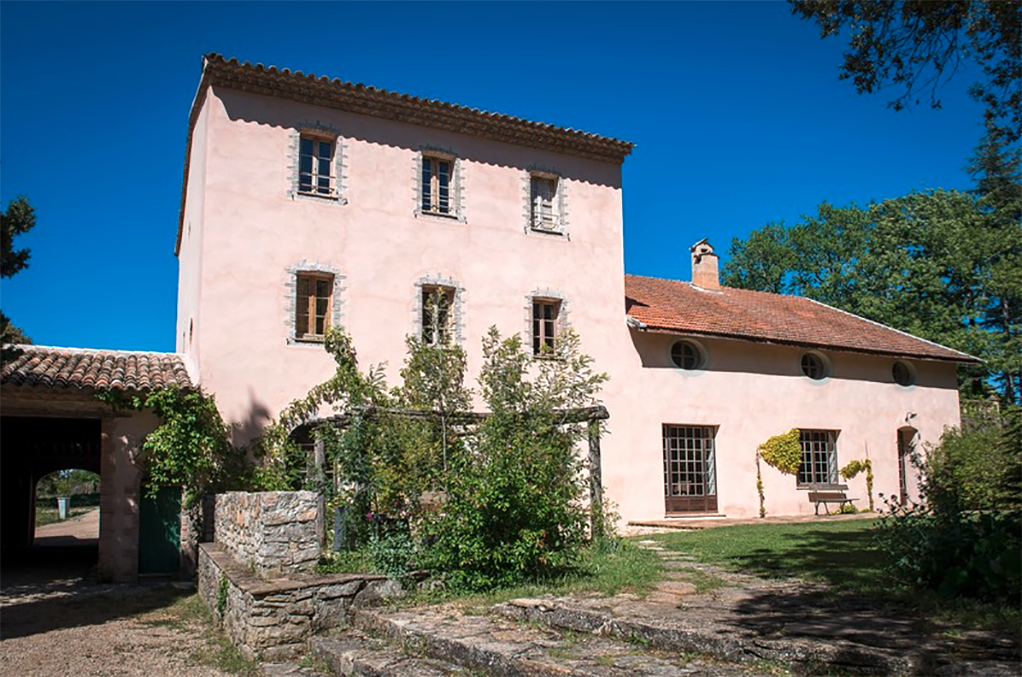 The Rigord family acquired the property in 1790. Rigord wives managed the property until Dr. Rigord inherited the domaine in 1967 and set about an aggressive replanting and restoration program. In 1977, Françoise Rigord began bottling wine under his label. Philippe Austruy purchased the property in 2001 and initiated another restructuring of the vineyard and the purchase of the adjacent La Bernarde blocks. There is an aggressive use of monumental sculptures throughout the vineyards; visit the website to experience them.
Alban Cacaret, Philippe Austry's nephew, is the managing director of Commanderie de Peyrassol. Pierre Guérin is Commanderie de Peyrassol's rosé and white wine maker. The website notes: "An expert in biodynamic agriculture, this oenologist from the Cabinet d'Agronomie Provençale is one of the top experts in the wines and terroirs of the Var."
La Bernarde Côtes de Provence Rosé "Hauts de Luc" 2018 is rich and substantial Provence rosé. Grapes come from deeply historic vineyards with terroir unlike that found elsewhere in Provence. Provence is the most famed rosé wine region in the world, and Commanderie de Peyrassol is one of the reasons. This effort works nicely as aperitif or picnic wine; pair with grilled fish; tapas; paninis; summer salads; fresh berry desserts. $16-20
Peyrassol website; visit pages on the extensive collection of monumental sculptures in the vineyards