Very deep gold with hint of amber, likely from extended skin contact since this is a "natural" wine; Meyer lemon, peach, apricot, apple, tea, wild flowers on the nose; apricot, beeswax, Meyer lemon, orange, apple, pear on the palate.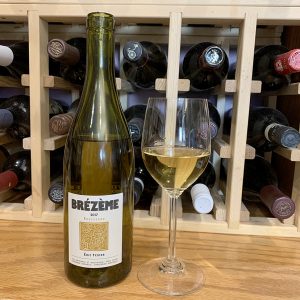 Dry; full-body for a white wine (common in a natural wine). Very bright acidity frames rich layers of fruit flavor. No tannin bite. Creaminess on the mid-palate and finish, which also delivers almond and spice notes. Minerality throughout. No oak; fermentation happens in concrete tanks with aging on the lees to deliver complexity and depth. Mouthfeel is oily-beeswax, a classic roussanne element; 11-14% ABV (that's how it listed on the label, which is more honest than standard label; likely this is around 13%).
Brézème is a small, little-known viticultural area (not a town) in the middle of the Côtes du Rhône. Technically, it is the southernmost part of the northern Rhône. Éric Texier urges his wine to reflect its place. In his words: "I became a vigneron, in the almost forgotten vineyard area of Brézème. My goals and methodology were born through reading, visits to traditional winemakers and sustainable farms around the world. My winemaking is very old school and very minimalist and my main concern as a vigneron is the soil."
Texier grows grapes organically in the limestone-rich soil and harvests by hand. Whole-cluster fermentation with native yeasts, no filtration, minimal sulfites (30mg/liter). No pigéage, remontage or bâtonnage (no punch down, pumping over, or stirring of the wine). This is 100% roussanne, a famously difficult grape. Texier is the only producer of roussanne in the Brézème region.
Texier was born in Bordeaux in 1961. He has lived around Lyon since he was 18 years old. Originally trained as a material scientist, Texier spent a year of study at the Illinois Institute of Technology. He worked in the leisure and nuclear industries (an interesting mix) before pursing his passion for wine. In 1992, Texier went back to Bordeaux to study viticulture and oenology at Bordeaux University. Jean-Marie Guffens at Verget was a mentor and instilled in Texier a focus on making wine so it purely reflects terroir.
Texier made his first wine in 1995. Employing old world traditions, he made wine in the Maconnais (a department of Bourgogne), then expanded to the northern Rhône, then to Chateauneuf du Pape in the southern Rhône. Brézème is almost exactly between those two regions, near where the confluence of the Drôme and Rhône rivers. Brézème is on the north/right bank of the Drôme.
Éric Texier Brézème Roussanne 2017 is rich, substantial wine. Pure and classic presentation of roussanne, including the signature beeswax oiliness and full bodied, vivid parade of flavors. Natural wine, which gives it very deep gold color with touch of amber from time on the skins. Also depth and complexity. Fermentation and aging in concrete creates the pleasing creaminess-softness which is delightfully contrapuntal to significant acidity and tartness. An impressive yin and yang achievement. Pair with pork, chicken, rich fish dishes (salmon, tuna, cod); mature, hard cheese; cured meats. $26-30
Sadly, Éric Texier does not have a website, and thus no link or photos.